Hamlet
William Shakespeare
Royal Shakespeare Company
Albery
(2004)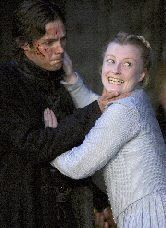 Productions of Hamlet seem to attract each other. RSC artistic director Michael Boyd's is the second to open in London in a fortnight. Fortuitously for him, it is infinitely stronger than the touring version, currently to be seen at the Barbican.
It is set in a curving black arena reminiscent of a bullring, with the actors in attractive Elizabethan costumes. The effect is considerably enhanced by John Woolf's eerie incidental music played live from boxes on either side of the stage.
Michael Boyd, whose direction is thoughtful throughout, also makes use of the boxes beneath. They provide entrances for the ghost of Hamlet's father, chalk white with the slow movements of a stone-rolling Sisyphus perpetually enduring his burdensome task.
There is always a danger in casting Greg Hicks in minor Shakespearian parts. He is such a fine actor, especially when playing a part with physical demands such as the aforementioned ghost, that there is a serious risk that he will upstage the star. This was likely to be compounded both by his magical disappearance through the stage and his trebling up. He also becomes the player king and a very witty first grave digger (unusually, the actress playing Ophelia was the other).
While Hicks might get awards for best supporting actor, it is pleasing that he is by no means the only star of the night. Toby Stephens playing a very highly strung Hamlet seems mannered in his early appearances but once his character tips over the edge into a true and rather terrifying madness, he is very convincing. The only false note is a long spell where his body is covered in graffiti, for the most part repetitively using the ghost's favourite line, "remember me".
His madness is mirrored by that of Ophelia (Meg Fraser), although even on the way to an early death, she seems hardly stranger than her sweet prince.
Clive Wood makes a particularly good Claudius, as sinister as they come. He is supported by Siân Thomas as a rather cold, unfeeling Gertrude, and Richard Cordery as a bluff but surprisingly intelligent Polonius.
The action is completed by a lavish sword fight between a very flamboyant Hamlet and, somewhat surprisingly given his foppish entrance, a much more direct Laertes (Gideon Turner).
The RSC has a fine tradition of producing worthy Hamlets. Michael Boyd can be pleased with the strength in depth of this vision, his Hamlet as mad and angry as Yukio Ninagawa's had been sane only a couple of weeks before. This reading works well and, as Polonius says, "Though this be madness, yet there is method in it".
Steve Orme reviewed this production at Stratford.
Reviewer: Philip Fisher