King Lear
William Shakespeare
Royal Shakespeare Company
The Roundhouse
(2011)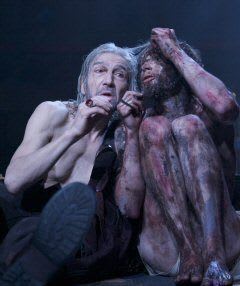 For the sixth and last play in the Roundhouse season, David Farr and the RSC have been more than a little unlucky in bringing London its second King Lear in as many months.
Just to make the point, on the day of this production's opening, the director of the Donmar version Michael Grandage and his leading actor Sir Derek Jacobi won awards from the Critics' Circle in their respective categories.
Farr has never been afraid to experiment and that leads to both the strengths and weaknesses in his vision for the play.
On the plus side, in Greg Hicks he has discovered an actor who puts everything into his performance. Looking uncannily like an ageing Eric Clapton, the King initially appears as a louche prankster but the joke soon turns on to him.
Even before he has been dispossessed by his two elder daughters, played by Kelly Hunter and Katy Stephens, this seemingly relaxed ruler explodes into a rage at what he sees as disloyalty from their younger sibling, Samantha Young playing a lisping, Pre-Raphaelite Cordelia.
John Clark's lighting in this production is quite remarkable. He uses the whole range from blaring brightness to virtual darkness, the latter (not) illuminating the "blow winds" speech to great dramatic effect. Throughout, Clark engenders an appropriately claustrophobic atmosphere.
By this stage, Lear is on the road to madness and once he meets a very effective Charles Aitken as Edgar/Poor Tom, the old King goes right off the rails.
Hicks is quite outstanding in his portrayal of angry and then more placid madness, leading to apparently visible physical deterioration. By the end though, he manages to rein it in, so that those rare glimpses of mental clarity are deeply moving. He gets good support, in every sense from Darrell D'Silva's solid Kent.
At the same time as Lear suffers at the hands of his daughters, we are shown that Gloucester, played by Geoffrey Freshwater, has similar problems with his wicked son Edmund, a relatively low-key Tunji Kasim.
The idea of having a female Fool is novel but in this case Sophie Russell, who stepped in at the last minute to replace Kathryn Hunter, has been asked to take the role in the sanest, most matter-of-fact way imaginable, which plays down much of the humour.
The design by Jon Bausor is for the most part glumly utilitarian with a bleak, symbolically collapsing backdrop and rather confusingly, while members of Lear's court dress in traditional clothing, the acolytes of his daughters wear First World War costumes, which at least leads to an explosive, machine-gunning ending.
While not everything that David Farr tries works, he does give us some refreshing new insights into the text and it is likely that Greg Hicks' performance will live in the memory of everyone who sees this King Lear for some considerable time to come.
Kevin Quarmby reviewed this production at Statford
Reviewer: Philip Fisher