Macbeth
William Shakespeare
Royal Shakespeare Company
Albery
(2005)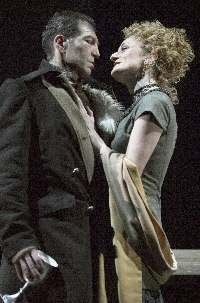 London's third Macbeth of the season comes with the Royal Shakespeare imprint and offers yet another contrasting view of the Scottish play. In this case, director Dominic Cooke keeps it to about two-and-a-quarter hours and sets it in the Nineteenth Century with Greg Hicks and Sian Thomas in the leading roles.
The play opens with a trio of rather drab weird sisters announcing Macbeth's destiny. Soon enough, the regal King Duncan played by Richard Cordery pays his fatal visit to the man who will succeed him.
Hicks is a real contrast with Simon Russell Beale at the Almeida. Where the latter slows his speech, Greg Hicks rushes lines, drawling them out at such a rate that they are not always easy to catch. He draws great sympathy, since his face constantly betrays his discomfort, firstly at killing a King, thus wrecking his own peace and then in his new, haunted role. Only when he decides that he is invincible is there a brief moment of, possibly drunken, confidence. Hicks is at his best when he does slow down in the soliloquies.
His wife, in a very feeling performance from Miss Thomas, is neurotic from the start and it is easy to see both why her hen-pecked husband can be nagged into regicide and why eventually his actions will tip her over the edge into madness and death.
Banquo (Louis Hilyer) is a bluff, warlike man whose bloody ghost would scare anybody and draws an anguished silent scream from his King, while the best of the support acting comes from Clive Wood as Macduff. His grief at losing his wife and babes is terrible to witness and the way in which he spurs the ineffectual Malcolm (Pal Aron) to invasion and his destiny is impressive.
The atmosphere on Robert Innes Hopkins generally bare set, a feature of most current RSC productions, comes from two areas. The innovative lighting, designed by Peter Mumford might well win awards and Gary Yershon's martial music, played live from the stage-side boxes is so powerful that it could almost wake the manifold dead. There is also a strong sense of the pathetic fallacy as the noisy elements bear down on this unholy Kingdom.
Cooke's ending, after some spectacular swordplay, is novel, as first the two bereaved sufferers, Macduff and Banquo's son, little Fleance salute each other and then the boy who will be King is seen meeting the weird sisters who will presumably tell him so.
This version has many nice moments and the odd experiment that fails, for example distracting silhouette play and a scene in which the witches conjure up images of the King's fate that would work better on film and flashily detract from Shakespeare's intentions.
While it is a delight to see so much Shakespeare on stage at the moment, it would be even better if there was greater variety. Much as one may like Macbeth, it is possible to get too much of a good thing and all too easy to get stuck in a world of critical comparison. This is a perfectly acceptable and enjoyable, if not wildly exciting, rendering. Whether it is preferable to the others though is a matter of taste as each is so different.
This review originally appeared on Theatreworld in a slightly different version
Steve Orme reviewed this production in Stratford and Peter Lathan in Newcastle
Reviewer: Philip Fisher