Much Ado About Nothing
William Shakespeare
Royal Shakespeare Company
Swan, Stratford
(2006)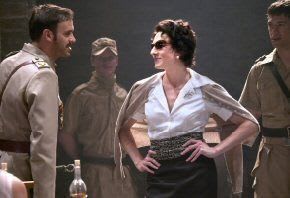 Despite all the hype surrounding the RSC's Complete Works season, there have been quite a few empty seats at both in-house and visiting productions. Happily this is not the case with Much Ado About Nothing - it's the sold-out hit of the season so far, and deservedly so. This is the funniest, most touching and most intelligent production of the play I've seen in twenty years.
The story is well known. Don Pedro returns victorious from the wars with his followers Claudio and Benedick. They stay at the home of Leonato, with whose daughter Hero Claudio falls in love. Benedick renews a long-standing battle of wits with his old flame Beatrice, Leonato's niece, and their friends vow to trick them into the belief that each still loves the other. Meanwhile Don Pedro's villainous brother Don John, with the help of his unsavoury friends Borachio and Conrade, devise a plot to ruin Hero's reputation. Claudio is taken in and publicly rejects Hero on their wedding day, Hero faints and is presumed by Claudio to be dead, and the priest who was to have married them proposes that the illusion of Hero's death be maintained until her innocence can be proved. Don John's plot is brought to light by Constable Dogberry's keen but inept band of watchmen and all ends happily.
Director Marianne Elliott has chosen to relocate Much Ado to Cuba circa 1953, with Don Pedro and his men returning to civvy street after putting down an attempted rebellion. Although this approach doesn't really provide any new insights into the play it gives designer Lez Brotherston, movement directors Sarah Gorman and Susannah Broughton and composer Olly Fox an opportunity to excel themselves in a South American way. We take our seats to the Latin rhythms of the Swan band (who enter into the carnival spirit by donning peasant costumes and jaunty straw hats), and are confronted by Brotherston's set - a stone archway, Cuban flags, two flickering neon signs and strings of lightbulbs suspended from a telegraph pole. It's a simple yet evocative backdrop to one of Shakespeare's most effervescent comedies.
Any production of Much Ado About Nothing stands or falls by the chemistry between Beatrice and Benedick, and in Tamsin Greig and Joseph Millson the RSC has struck gold. Both performers are blessed with immaculate comic timing and a gift for physical clowning - not a particularly common combination - and their scenes together are a joy to behold. Hero (Morven Christie) and Claudio (Adam Rayner) breathe life into characters can easily pale into insignificance compared to the two B's, and Jamie Ballard makes Borachio's repentance genuinely moving. I can't remember any previous productions in which Margaret (Amy Brown) was stricken with guilt for her involvement in Hero's apparent death, but this unusual reading is both credible and touching. The transformation of Balthasar (Yvette Rochester-Duncan) into a sultry nightclub singer is also an inspired touch.
The biggest surprise of the production, however, is Bette Bourne's Dogberry. Several directors have found hints of homoeroticism in the play - in Greg Doran's recent Much Ado Don Pedro was obviously not the marrying kind - but this Dogberry, followed about with spaniel-like devotion by Verges (Stephen Beard), is keenly appreciative of a pretty piece of male flesh. There may be no textual warrant for this interpretation but it's extremely funny.
The last word must go to a young girl of about twelve years of age who sat directly in front of me. She was sat enthralled through the entire three-hour performance, and when the house lights went up at the end she turned to her mother and said, "Can we see it all over again?" I know exactly how she felt!
At the Swan Theatre until 12th October
Peter Lathan reviewed this production at Northern Stage, Newcastle, and it was also reviewed by Philip Fisher at the Novello Theatre, London
Reviewer: J. D. Atkinson