The Taming of the Shrew
William Shakespeare
Royal Shakespeare Company
Novello Theatre
(2009)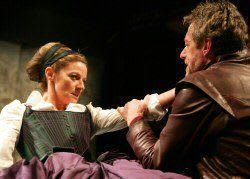 The final play in the RSC mini-season in London is directed by Conall Morrison from the Abbey in Dublin. He opts for a radical staging, making full use of a brace of attractive design concepts courtesy of Francis O'Connor.
He starts the evening in a bright but grotty night-club before tracking back four centuries to a town built up from scale models with an attractive townscape backdrop.
The opening is certainly novel, as Christopher Sly gets himself legless in a pole dancing club accompanied by what looks like the tail end of a stag night who excel at the haka, much loved by All Blacks and their fans.
Stephen Boxer's drunken central figure is then gulled into believing himself wealthy and invited to watch a group of players who emerge from a real lorry with a Cole Porter-inspired number plate, XME K8.
Soon enough, we revert to Jacobean times, as old Baptista Minola struggles with to cope with his two contrasting daughters. Amara Karan plays a suitably sweet Bianca, while Michelle Rodriguez intermittently brings her Glaswegian accent from the night-club back into the Seventeenth Century playing her psychotic sister, Kate.
Bianca is besieged by unsuitable suitors, while Kate scares all away until Petruchio, Boxer again, boldly proclaims his desire to wed and tame her.
The fun then begins in the play's best scene, as the fiery couple joust verbally and physically, like a pair of lippy boxers, in an attempt to gain the ascendancy.
Once Petruchio deigns to marry the Shrew, the writing is on the wall for his unfortunate intended. Even so, his delayed arrival at the wedding in stag's (rather than cuckold's) horns and a bloodied bridal frock is really quite something.
Michelle Gomez then develops into the most subservient Katharina imaginable, doing everything demanded of her, having had her spirit broken like a victim of the worst kind of psychological brainwashing. The only minor revenge that Morrison allows is meted out on poor old Christopher Sly in the postscript.
Stephen Boxer, normally the gentlest of men, transforms himself into a magisterial and at times terrifying ogre, while Michelle Gomez is at her best when her character hits the low point in marital relations, starved, grubbied and tearful.
In addition to the main story, much entertainment is obtained through the efforts of Bianca's numerous suitors, with a couple of servants played by Keir Charles and Jack Laskey deserving and getting lots of laughs, amid wonderfully orchestrated Shakespearean confusion of identities.
Conall Morrison works incredibly hard to present novel ideas and is at his strongest with the visual humour, frequently harking back to the Commedia and slapstick traditions. He is not as strong in either the characterisation or the overall conception of the 3¼ hour production.
Playing until 7 March
Steve Orme reviewed this production at the Courtyard, Stratford, and it was also reviewed by Peter Lathan in Newcastle
Reviewer: Philip Fisher