The Tempest
William Shakespeare
Royal Shakespeare Company
Novello Theatre
(2007)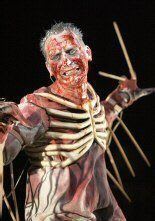 Rupert Goold is riding high with the stars at the moment. This striking RSC reinterpretation of late Shakespeare featuring Patrick Stewart joins his acclaimed Glass Menagerie with another film legend, Jessica Lange.
In addition to these West End hits, the young director runs Headlong Theatre so he is certainly keeping busy.
Before the play even commences, you know that the evening will be unusual since the curtain features a short-wave radio set, hardly a Shakespearean staple. This partially dissolves to show a ship's crew in modern dress, foundering in a terrifying storm that literally shakes the theatre.
In Giles Cadle's imaginative design, Prospero's island is a frozen waste and his cell seemingly some kind of logger's hut. The deposed Duke of Milan shares this with his daughter, Mariah Gale's singular Miranda. Using the perfect logic that the unworldly girl was three years old when she departed from society, Goold has the actress play her part like a stiff-limbed, wide-eyed tot throughout. As befits a triple best newcomer award winner, Miss Gale does this perfectly.
The surprises do not end there. Prospero's spirit-assistant Ariel, normally a real jumping jack is, in the hands of Julian Bleach, a slow-moving spook, white-faced and more dead than alive. He has a thrilling highpoint fearsomely emerging from the stomach of a small whale, as a kind of Jonah Scissorhands.
By way of contrast, John Light's ill-natured, articulate Caliban shows the physical attributes of a circus performer as he bemoans an enslaved existence, until a pair of stupid friends come along to tempt him with the demon drink. They are Trinculo and Stephano and start with a hilarious moment before subsiding into more mundane drunken jest.
Meanwhile, the evil Prince, Finbar Lynch and the Duke who has stolen Prospero's crown, Ken Bones, wander lost and starving on this enchanted island. The Prince is grieving the loss of a son, Ferdinand, in the shipwreck. The youth, played by Nick Court also has a tough time of it, as Stewart's Prospero tests him out as a prospective husband for his sweet-natured daughter.
Goold's production is nicely balanced, with many inventive touches and a musical accompaniment that veers between eerie instrumentals and exotic songs. This adds to the dream-like effect, which also benefits from stormy black and white projections between scenes.
This is an ensemble production that features strong contributions from most and enables Patrick Stewart, who makes his Prospero a humane man, to be part of a team rather than towering over the company. All speak their lines with great clarity and by looking at the play from unexpected perspectives, they illuminate aspects that are normally unnoticed.
Thanks to the Complete Plays season, there has been a lot of Shakespeare around of late and nearly all of it has been of top quality with something fresh to offer. This Tempest holds the attention throughout its 2¾ hour duration. It may seem novel but that is often a good thing and on this occasion, Rupert Goold's vision comfortably lives up to high expectations.
Peter Lathan reviewed this production during the RSC Newcastle season
Visit our sponsor 1st 4 London Theatre to book tickets for The Tempest.
Reviewer: Philip Fisher