The Winter's Tale
William Shakespeare
Royal Shakespeare Company
Courtyard Theatre, Stratford-upon-Avon
(2009)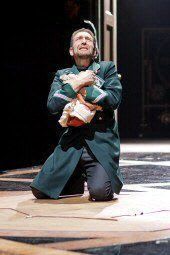 The Palace of Sicilia is a splendidly bookish place in David Farr's lavish new production of The Winter's Tale at Stratford. Two vast bookcases, filled with serried ranks of gold-embossed volumes to rival the King's Collection at the British Library, stand guarding a central entrance onto an ornate art deco-effect marble stage.
A long dining table, set for twelve guests, groans under the weight of candelabra and glass and silverware. A party is obviously in full swing elsewhere in the palace. In creeps a young boy, eager to tear open his party cracker and don the symbolic paper crown which he is destined never again to wear. Young Prince Mamillius, doomed to inherit not his father's throne, but his mother's disgrace.
This is the palace of Leontes and his queen, Hermione. Hermione is heavy with child. A sister or brother to Mamillius perhaps? What should be a joyous festive occasion deteriorates into a sordid exploration of jealousy and hatred and male pride.
Leontes sees nothing but adulterous deceit in his wife's pleading for their guest, King Polixenes of Bohemia, to remain a while longer in their presence. Polixenes is determined to return to his own lands and family. Hermione's will, however, prevails. It is this honest, innocent will which threatens her marriage, her life, and those of her children.
What follows is one of the least understood, most often misrepresented of Shakespeare's fascinatingly tragicomic plays. A first half of pure tragedy is, through the intervention of the personification of Time, transformed into a pastoral comedy, complete with ignorant peasants, thieving n'er-do-wells, and wildly prancing mummers. The outcome, one of reconciliation and redemption, tinged with bittersweet comic surreality.
Farr's treatment is both intelligent and innovative. The influence of Ancient Greek drama, hinted at in Shakespeare's choice of names for his characters and the all-important role of the Delphic Oracle, is highlighted throughout the play. There is no shunning the tragedy of Leontes' fall. There is no escaping the roaring antimasquers of rural Bohemia, slapping their Greek-comedy phalluses in ejaculatory glee. The Winter's Tale appears as Shakespeare's homage to a Classical theatrical past.
The overarching strength of Farr's production is his treatment of the tragic first half. In it, Greg Hicks provides us with an astonishing Leontes, the mental process of the king's decline into blind jealousy and murderous revenge etched in the lines of this fine actor's expressive face. Seldom does Hicks offer the audience a cynical, bitterly ironic aside than they receive it with knowing humour. Utterly believable, Hicks's performance allows us to care about Leontes, to sympathize with his hubristic downfall and to marvel at his blind folly.
Leontes might rave at his wronged wife, but the Stoic performance of Kelly Hunter as Hermione provides a centrality to the tragedy which is both moving and invigorating. Hunter's portrayal of Hermione defending herself in the trial scene, standing dishevelled and bloodied from childbirth, is remarkably sincere and honest. As this queen pleads not for her life but for her reputation, and as she collapses at the news of her son's demise, we are privileged to watch an actor at the peak of her craft.
Similar praise for Darrell D'Silva as a blustering Polixenes, whose response to news that he is to die because of his friend's jealousy is at once one of anger and abject dismay. Likewise, John Mackay as a Scottish Camillo, assisting the unfortunate visitor to escape back to Bohemia, adds the final touch of integrity to this excellent first half.
Leontes' mental collapse is mirrored in the literal collapse of the House of Sicilia, as bookcases tumble, books of wisdom which dominated its walls cascade in vast heaps onto the stage, and paper flies through the air in shredded madness. This week's events in L'Aquila add an added poignancy and immediacy to this imagery.
The detritus of printed matter remains a theme throughout the rest of the play. Even the evocation of the Bear who attacks Antigonus is a giant puppet mass of browned paper. Trees bear not organic leaves but leaves of books and dancing mummer costumes mirror the paper-clad animals which seem to roam the woods of Bohemia.
Unfortunately, the second half, full of bucolic humour, fails to engage as fully as the first. There is no end of comic talent here, whether from Brian Docherty's Autolycus, whose sonorous basso profundo voice sounds as though he has recently gargled with ball bearings, or from Larrington Walker's Caribbean Old Shepherd, wide-eyed with joy at discovering the baby Perdita and her gold.
Similarly, Gruffudd Glyn's Young Shepherd, easily gulled by the pick-pocketing Autolycus, adds his own comic talent to the play. Nevertheless, the promise of the first half is only realized when eventually we return to Sicilia for the joyous reuniting of parent and child, husband and wife.
It seems amazing, when viewing the play now, that eighteenth-century adaptors of Shakespeare felt inclined to cut the first half of the play, only offering the rural shenanigans to the nation's playgoing public. This twenty-first century RSC production demonstrates what our forebears were missing -- a play of such depth of feeling than we can all recognize, or at least remember, similar episodes of jealous blind rage in all our lives. Leontes is fortunate to learn from his mistake. His loss, a young son and heir and the first sixteen years of his daughter's life. A winter's tale it might be, but it will still warm the coldest heart.
Peter Lathan reviewed this production in Newcastle. It was reviewed at the Roundhouse in 2010 by Philip Fisher.
Reviewer: Kevin Quarmby