The Winter's Tale
William Shakespeare
Royal Shakespeare Company
The Roundhouse
(2010)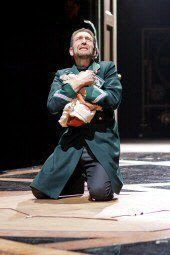 Greg Hicks was always likely to be a good Leontes and lives up to the highest expectations. Whether portraying terrible jealousy that is so patent that it is almost tangible, abject miserable contrition or long-awaited happiness, this excellent classical actor is wholly convincing.
David Farr has created a production visually set in the late-Victorian era and, unusually, using paper and book imagery. This peaks in impact just before the interval as first a 12 foot tall paper bear consumes unhappy Antigonus and then a stunning coup de théâtre adds symbolic weight to Leontes' fall from grace.
Before that, early scenes of celebration soon pass, as the Sicilian King begins to suspect his heavily pregnant wife Hermione, played by Kelly Hunter, of being "a bedswerver" or adulteress.
Her partner in this alleged act is the King of Bohemia, Darell D'Silva's Polixines. This is a man who is practically a brother and, while he loves the Queen, it is only for her gracious bonhomie.
This adversity brings out the best in her friend and confidant Paulina, played with commanding authority but also compassion by Noma Dumezweni. Hermione herself rises to the occasion defending her honour in a trial scene, on this occasion played less with impassioned power than downtrodden woe.
The paper-pastoral scenes in Bohemia advance the plot 16 years, and centre on a pair of young lovers, Florizel the secret prince and Perdita, who has her own secret, though she doesn't know it. Tunji Kasim and Samantha Young are suitably fresh-faced and the couple's passionate love for each other is there for all to behold.
Brian Doherty is a reasonably comical Autolycus who makes an unusual entrance, rising from the bowels of the earth and lighting a roll-up. Unusually, he has his finest moment as the centrepiece of a really original and unexpectedly moving closing image.
On this occasion, the snapper up of unconsidered trifles is rather outshone by the lovely gentle humour of Gruffudd Glyn playing the Young Shepherd.
As ever, the scenes back in Sicilia leading up to that closure are infinitely moving, building to one of Shakespeare's greatest stage moments, lovingly crafted to ensure a few moments of pure stage magic.
David Farr does a pretty good job of creating a rewarding version of this late play, only coming to grief in his failure to appreciate the tricky needs of audiences spread so far around the Roundhouse's bulb-like thrust stage.
Those sitting at the sides will always struggle with sightlines unless actors are very carefully placed or move around almost constantly. That should not detract from what is otherwise a good night out and the chance to see Greg Hicks in particular on top form.
In 2009 Kevin Quarmby reviewed the production in Stratford and Peter Lathan in Newcastle
Reviewer: Philip Fisher