Romeo and Juliet
William Shakespeare
RSC at the Albery
(2004)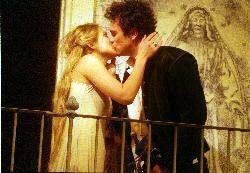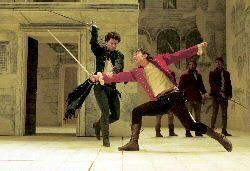 The latest RSC transfer from Stratford, via Newcastle is directed by Peter Gill, as well known for his playwriting as in this role. His Romeo and Juliet is both bawdy and witty, until tragedy strikes, and then becomes increasingly violent and sad as it leads to the inevitable denouement.
Strangely, the two protagonists almost seem drawn from a very different part of the canon, Hamlet. Matthew Rhys' Romeo is, like the Dane, a brooding, languorous, tortured fellow who seems to carry the weight of the world on his shoulders, except for that brief period of loving bliss.
Juliet, played with remarkable veracity by Sîan Brooke, becomes increasingly distracted and when closest to madness at losing her husband, has overtones of Ophelia. Miss Brooke's real success is in appearing convincing as a thirteen-year-old, suspended between girlhood and maturity. In this she is assisted by perfect but nicely understated body language, apparently a speciality of the director.
The warring families, like opposing park football teams, wear traditional costume in varieties of red (Capulet) and blue (Montague) which makes identification simple. Their battleground is a series of high cream pillars with pen and ink drawings of Veronese (the city rather than the artist) scenes.
The finest acting comes from the red team. In addition to Miss Brooke, David Hargreaves makes her father, a man who must have been 50 at her birth, a sympathetic character rather than the more usual brute. Looking like a white-bearded patriarch of the Russian Orthodox Church, his benignity only disappears once, when at some risk to Mr Hargreaves' heart, his face almost matches his puce coat as he berates his daughter for her failure to love Paris.
The other red star is June Watson's Glaswegian-accented and extremely funny Nurse, a shrill, loquacious woman who loves her charge sometimes to the latter's frustrated distraction.
Romeo's friends tend to look like shaggy, rather ineffectual rock stars and behave almost as badly, though Trystan Gravelle is a touching Benvolio. The sword-fighting, directed by Terry King and with Romeo Rhys very much in the vanguard, is exceptional to the extent that one begins to fear for the safety of the actors.
Peter Gill has ensured that his actors speak their verse exceptionally clearly throughout the 3¼ hours. His star-crossed lovers make a good pair and seem less aged than many. This production might make a good, if slightly lengthy, Shakespearean introduction for an uninitiated teen.
This review originally appeared on Theatreworld in a slightly different version
Steve Orme reviewed this production at the Swan, Stratford
Reviewer: Philip Fisher