Romeo and Juliet
William Shakespeare
Shakespeare's Globe on tour
Lords Cricket Ground
(2007)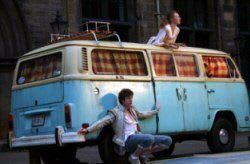 One hesitates to suggest it, but Edward Dick's slimline, modern dress touring production of an old favourite might just be the best Shakespearean offering from the Globe in 2007.
With a very young cast of just eight and a running time of 2½ hours including interval, this Romeo and Juliet is frisky, lively and compact; and completely won over a discerning audience at an unlikely venue, Lord's Cricket Ground.
There is a need to suspend disbelief as the major prop is a vintage Volkswagen campervan and behind that a small tent, presumably to protect the actors' modesty. The vehicle backs a small playing area (with traditional Global pillars) set down in front of the ground's august pavilion, The van is multitalented, acting amongst other things as Palace, four-poster bed, musical instrument and most important of all, balcony.
In a good, active ensemble, the standout performance comes from Ellie Piercy as Juliet. She starts out as a denim-dungareed tomboy but soon enough dons more feminine costume in time to fall head over heels in love with Richard Madden's boyish, Glaswegian Romeo, who in true Globe style, delights in chatting up female members of the audience.
Miss Piercy combines girlish delight and tragic anguish with great ease and shows herself to be an actress to keep an eye out for the future. One oddity is that this Juliet is seemingly older than her own mother, which is to take nothing away from the performance of Tyne Rafaeli as a sensible, caring Lady Capulet.
The rest of the company are almost equally good, especially Elliott Shrimpton who hilariously doubles as Juliet's nurse and Friar Lawrence, at certain points simultaneously serving the young couple in both roles while swapping headdress for glasses to aid differentiation.
In the open air, one can only compliment the director and his company for their superlative verse speaking, which never loses a word, even when helicopters provide competition. They also fight, dance, argue and romance with real commitment and enviable energy.
With a wry humour but a desire to do Shakespeare justice, Edward Dick must have delighted audiences up and down the country during the 2½ month journey that started at the company's home ground in Southwark. One must hope that this is the start of an annual tour that will help to bring the Globe to a much wider audience.
Reviewer: Philip Fisher