The Caucasian Chalk Circle
Bertolt Brecht in a new translation by Alistair Beaton
Shared Experience
Nottingham Playhouse and touring
(2009)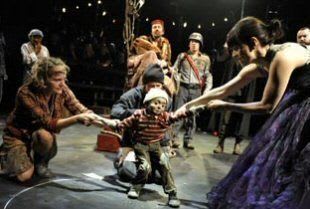 Alistair Beaton, the man behind this new translation of one of Brecht's greatest works, notes in the programme that he's tried to capture the German playwright's vigorous sense of humour. "The Caucasian Chalk Circle is a great play, and great plays can also have moments of great comedy," he writes.
But comedy is subjective; what one person finds funny won't necessarily affect someone else's funny bone. That's what I found myself thinking as I and quite a large audience at Nottingham Playhouse found little to exercise our chuckle muscles during the first half of this epic.
Admittedly it's the usual high-class collaboration between Nottingham Playhouse and Shared Experience who've on this occasion taken on a further partner in West Yorkshire Playhouse. Shared Experience and the Nottingham theatre previously got together to stage the stylish A Passage to India in 2004 and the towering War and Peace in 2008.
The Caucasian Chalk Circle is well acted, superbly staged and sensitively directed by Nancy Meckler. Just don't expect before the interval the sort of humour that Beaton wrote in his hilarious political comedy Feelgood which won the Evening Standard best comedy award.
Brecht's communist background is evident in The Caucasian Chalk Circle as he portrays a city in an under-developed country being ravaged by civil war. Poverty, deprivation and suffering are rife and have repercussions for all social classes.
A servant girl, Grusha, sacrifices everything to look after an abandoned child - left behind in the governor's wife's desperation to save her clothes and possessions.
The play is grim, solemn and laboured, exemplified in no small way by Ilona Sekacz's Azerbaijani-based folk music which does nothing to lighten the gloom despite the effervescent 25-strong chorus made up of members of the local community.
From act four onwards the work takes on a transformation which is remarkable. James Clyde relinquishes his role as the narrating singer to become Azdak, the village scribe who reluctantly assumes the position of judge. Clyde gives a brilliant performance as the drunken, cynical chauvinist whose justice has more to do with common sense than legality. His unconventional judgements bring hilarity in abundance; it's laugh-aloud comedy from then on.
Although The Caucasian Chalk Circle is an ensemble piece, there's a gripping contribution throughout from Matti Houghton as compassionate Grusha who takes a profound journey through several relationships before a highly charged and emotional dénouement.
Josephine Butler also gives a commendable display as the governor's wife, not just unbelievably materialistic and determined to get her own way but also insecure and vulnerable.
Shared Experience and Brecht have a similar aim: to present high-quality, entertaining theatre. The thoroughness and preparation that have gone into The Caucasian Chalk Circle are second to none. There's passion, commitment and dedication from the ensemble who try continually to make Brecht accessible. For the most part they succeed; there are times in the first half though when I was thinking those moments of great comedy were a little too sporadic.
"The Caucasian Chalk Circle" continues until November 21st
Ray Brown reviewed this production at the West Yorkshire Playhouse. It was also reviewed by Howard Loxton at the Unicorn Theatre
Reviewer: Steve Orme