The Glass Menagerie
Tennessee Williams
Salisbury Playhouse and Shared Experience
Salisbury Playhouse
(2010)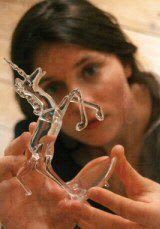 Is there a student of social misfits in American Society quite as keen eyed as Tennessee Williams?
Blanche in A Streetcar Named Desire, Brick in Cat on a Hot Tin Roof yet first came the frigid Laura in The Glass Menagerie (1944) now lovingly revived by Polly Teale and Shared Experience in a new production which opened last week at Salisbury Playhouse.
The role of Laura is delicately played by Emma Lowndes whose early career has included, already, awards for her performance in The Seagull at Manchester Royal Exchange.
However, the core of this excellent revival is the performance of Imogen Stubbs as Southern Belle Amanda, the matriarchal figure in what is, after all, a powerful recollection of the playwright's own family and their circumstances.
Stubbs gives us a nicely understated account of the inadequate, self-centred mother protesting concern for her inhibited daughter's future while locked in absorption in her own lost youth.
In fact the southern drawl presents some of us with a little local difficulty in the early moments as narrator Tom, also a central figure in the household, gets the recapitulation underway.
These are, of course, early days in the run and the dialogue, not always the easiest for English enthusiasts any way, is soon flowing smoothly.
In this, arguably the most autobiographic of Williams's work, Tom is the personification of Williams himself - who similarly followed his father, whose figure dominates the stage from a photograph on the sideboard, away from the domestic scene.
Naomi Dawson's design, too, is faithful to Williams and his time. In addition to the clattering staircase of the familiar tenement, there is also the interjection of movie footage, not simply to symbolise Tom's so-called fascination with late picture shows but, more important, to evoke the post-depression thirties which were "the golden age" of cinema.
And if the set is sympathetic without distraction, so too is the music, hauntingly mirroring the visual sense of nostalgia with a nice gesture to the age of the phonograph.
So much, of course, hangs on the teasingly delayed arrival of the "Gentleman Caller" who, in the easy presence of Kyle Soller, brings just enough charm and personality to fascinate his adoring audience before dashing their fragile hopes and expectations.
The production continues at Salisbury Playhouse until Saturday 20th March.
Reviewer: Kevin Catchpole