Flare Path
Terence Rattigan
Theatre Royal, Haymarket
(2011)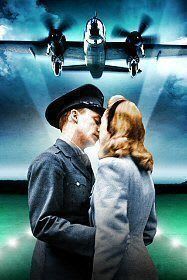 It may fly a little too close to the melodramatic at times but, even 70 years on, this tale of plucky flyers risking their lives to keep the world free still has the power to move.
Set in a Stephen Brimson Lewis designed solidly-built country hotel on the outskirts of a Lincolnshire airfield, Flare Path focuses on a trio of RAF heroes, their womenfolk and peripheral characters ranging from Matthew Tennyson's Percy, a youthful waiter who could have auditioned to play Private Pike in Dad's Army, to a Don Juan film star.
The early scenes of this 1942 play introduce a love triangle with two handsome but contrasting men hovering around Sienna Miller, who unsurprisingly has no trouble at all in portraying a beautiful actress.
Her character, Pat Warren, happens to be married to a public school educated Flight Lieutenant, Harry Hadden-Paton's Teddy Graham. However, their swift wartime marriage left no time for her to mention a year-long affair with James Purefoy's Peter Kyle, a silver screen idol so famous that everyone he encounters turns to jelly.
The choice between an admittedly sleazy actor with whom the lady is in love and an honest fellow for whom she feels sorry should be easy, were this not wartime
Sheridan Smith (on the day before she won an Olivier) once again shows her versatility, switching from the teeny star of musical Legally Blonde to become a gin swilling working-class Countess married to a Polish Johnny (literally) whose English is laughable (equally literally). Doris might seem like the shallow barmaid that she once was but, in time of need, she shows as stiff an upper lip as anyone.
Mark Dexter in the role of Count Johnny might just get a few nominations for best supporting actor, despite an accent that could have been purloined from 'Allo 'Allo, thanks to a late speech that might easily have half the audience blubbing every night.
The third couple are typical salt of the earth figures but well-drawn. Joe Armstrong is Dusty Miller, an honest rear gunner, while his narrow-minded wife Maudie may nag but, in Emma Handy's capable mitts, becomes a lovable comic figure.
That just leaves Sarah Crowden's disapproving landlady of the type seen in so many plays and films of the era and Clive Wood playing the sympathetic, if incredibly camp Squadron Leader Swanson.
Terence Rattigan, who is doing well at the moment as his centenary ensures a stream of revivals, balances a believable portrayal of the stresses that war puts on marriage (and even on affairs) with a stirring tale of airmen who put their lives and sanity at risk on a constant basis.
The acting successfully manages both to convey the period and speak to modern audiences. While the characters are somewhat stereotyped, the cast combines well to draw in and hold our attention, especially in the fraught final scenes.
Most interest will inevitably centre on society beauty Sienna Miller making a rare foray on to a West End stage. The screen star, who is at least as well-known for her lifestyle as her performances, acquits herself capably.
Flare Path, the first play of Sir Trevor Nunn's tenure at the Haymarket Theatre, will rouse its audience as well as reminding them of the bravery of a group of pilots who kept our grandparents safe. As such, the theatre's 900 seats are likely to be filled every night of the run.
Playing until 4 June

Reviewer: Philip Fisher