La Cenerentola
Gioachino Rossini
Welsh National Opera
Mayflower, Southampton, and touring
(2007)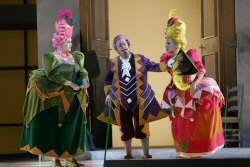 No fairy godmother, no Buttons, and no glass slipper. Yet Welsh National Opera's new production of Rossini's colourful La Cenerentola (Cinderella) has all the magic of Perrault's original 17th century tale, including much removed by the papal authorities and restored only for British Victorian pantomime.
The great charm of this excellent production is inspired by the Spanish director Joan Font whose affection for the international myth of Cinderella and its universal story shines through.
Premiered at the Wales Millenium Centre, Cardiff, on 27th September, La Cenerentola bubbles with Mediterranean humour and brilliant scoring – the latter, of course, the principal reason for its rare appearances in the operatic repertoire. For Rossini challenges the singers as well as the musicians with some of his most intricate scoring. The title role, for instance, requires not only a superb coloratura, but also a singer with a fine sense of melody and style. That she must be a contralto is just another aspect of the lost arts rediscovered for this piece.
And this Cinderella is the superb bel canto exponent, Marrianna Pizzolato, whose name endorses her artistic brilliance. From the almost unassuming, sad little country song, Pizzolato moved confidently to the spectacular ensemble in which she displays her true coloratura amid the rhythmic repetition of the final tune by the powerful ensemble.
In the style of the great theatricals, from Shakespeare to Gilbert and Sullivan, two of the main characters must switch roles, namely Prince Ramiro, beautifully sung here by Colin Lee, and Dandini, the excellent baritone Earle Patriarco who took over the role from Roberto de Candia for this performance.
Clorinda and Tisbe, the ugly sisters to us, are in the capable hands and voices of Scottish soprano Joan Boag and her fellow Scot, mezzo Julianne Young.
There are also strong, clean performances by Robert Poulton as Don Magnifico, otherwise Baron Hardup, and by Andrew Foster-Williams as Alidoro.
WNO's musical director Carlo Rizzi pours much affection for the work into his conducting to move the entertainment along at a pace which would surely have delighted the composer as much as it does the large audience.
Joan Guillen's excellent settings for the baron's castle and the ballroom involve clever use of levels. Nothing in all this magic however matches that of the six smart rats, standing in for the liveried mice popularly associated, in this country at least, with this famous 'tale'. Theirs is a team performance to savour.
WNO's production of "La Cenerentola" tours to Llandudno, Venue Cymru, Bristol Hippodrome, Oxford New Theatre, Birmingham Hippodrome and Swansea Grand Theatre where its final performance of the season will be given on 30th November
Reviewer: Kevin Catchpole