Falstaff
Giuseppe Verdi
Welsh National Opera
Southampton Mayflower and touring
(2008)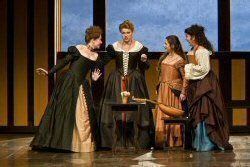 There was standing room only at the Southampton Mayflower Theatre on Thursday when a packed house of more than two thousand thrilled to Bryn Terfel's new account of Verdi's Falstaff for the Welsh National Opera Company.
Terfel, who sang the role when this Peter Stein production was revived at the Wales Millennium Centre, Cardiff, at the beginning of March, was a late substitute for this Southampton performance, standing in for the injured Roberto de Candia who underwent knee surgery earlier in the week.
An even later substitute at the Mayflower was Tasmanian baritone Simon Thorpe replacing the indisposed Christopher Purves who was to have sung Ford.
Thorpe's warm baritone is ideally suited to this role, and he is superb in the Act 2 soliloquy in praise of jealousy. No surprise, then, that his CV already includes Father in La Traviata.
Terfel, who, for all the makeup and padding, appears totally comfortable in the title role, seizes the production from the opening curtain with some gloriously uninhibited exchanges with the equally well-sung Bardolph (Neil Jenkins) and Pistol (Julian Close).
The arrival in Scene 2 of the Merry Wives brings contrast in voices and settings as Alice (the excellent Janice Watson), Meg (Imelda Drumm), and Mistress Quickly (the warm contralto of Anne-Marie Owens) compare the famous letters. The scene ends with one of the highlights of the first half of the opera - the garden duet so excellently sung by soprano Claire Ormshore (Nannetta) and the talented young tenor Rhys Meirion (Fenton)
The riotous finale to Act 2 offers us Terfel at his mischievous best, both in voice and character as he is first squashed into the laundry basked and then thrown into the Thames.
Lucio Fanti's designs are totally in tune with the changing moods of the comedy, if tending to add somewhat to the playing time. There is an especially fine realisation of Herne's Oak in Windsor Park which is well worth the interval pause. The exquisite music for Nannetta's dance preludes a rip-roaring finale with Falstaff leading the entire company in the glorious conclusion that "Jesting is a man's vocation and wise is he that is jolly!"
Michal Klauza conducts this splendid revelry with a spirit of which the great composer would surely have approved.
"Falstaff" will also be staged at Milton Keynes (3 April), Bristol Hippodrome (10 April), Plymouth Theatre Royal (17 April) at 7.15 and Swansea Grand Theatre (24 April) at 7.00 pm.
Pete Wood reviewed this production at the Birmingham Hippodrome
Reviewer: Kevin Catchpole