The Marriage of Figaro
Wolfgang Amadeus Mozart
Welsh National Opera,
Southampton Mayflower
(2009)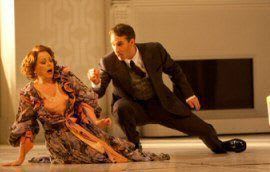 It's a far cry from the simple - it has been described as mundane - setting for the opening of Mozart's opera buffo The Marriage of Figaro to the supreme heights of the elite among which the work now rests, alongside such greats as Mastersingers, Falstaff and Rosenkavalier.
Luis Pasqual's arresting new production for Welsh National Opera, given its first Southampton Mayflower performance this week, may appeal to young newcomers to our opera audiences. Whether its clipped, visual style matches the beauty of the musical content is quite another matter.
Neat, short-skirted maid's uniform for Rosemary Joshua's pert, coquettish Susanna, together with the smart black tie for the urbane Figaro, are well enough. Yet when Jacques Imbrailo's Almaviva appears in tennis flannels, one begins to wonder, and I certainly feared for the Act 2 entrance of the Countess. This, for me, is one of the great moments of opera, another being her appearance in Act 3 to sing the expressive "I remember days long departed".
I need not have worried. The excellent Rebecca Evans, making her first appearance in this role, is elegantly attired in a sweeping gown befitting the solemnity of her mood and this silky soprano proceeds to delight the packed house with both her major arias.
Director Pasqual, who, like his designer Paco Azorin, has worked much in Barcelona, has the opera moving at a sharp, occasionally frenetic pace, and we must be thankful that Michael Hofstetter and the excellent WNO orchestra are more than up to it.
Azorin's settings include many doors, lending themselves to the comedic aspects of the play, with perhaps too many mirrors for they not only add to the atmosphere of general confusion but also tend to detract from any atmosphere of grandeur and prosperity.
Joshua's light soprano has a distinctive, engaging quality which lends itself to the comedy of the role in which she finds a superb balance in David Soar's Figaro - an excellently sung performance by this experienced baritone.
There is, however, a similarity in the build of these two male singers, Soar and Imbrailo, which holds peril for directors who translate story and setting to more recent times and dress.
For Act 4 of The Marriage of Figaro is steeped in disguise and deception. And though I have enjoyed this piece several times from London and Liverpool to Berlin, I confess myself quite lost amid the intrigue of this Spanish synthesis of dress and design.
Praise be for the excellent solo voices of WNO who, alone, saved me from the chaos of lost comprehension of one of the greatest finales of them all!
The opera is at Southampton again on Friday March 13th and can be seen at Llandudno (17 March), Birmingham (24 March), Milton Keynes (31 March), Swansea (9 April) and Bristol (14 and 17 April).
Pete Wood reviewed this production at the Wales Millennium Centre, Cardiff
Reviewer: Kevin Catchpole