Die Fledermaus
Johann Strauss
Welsh National Opera
Southampton Mayflower and touring
(2011)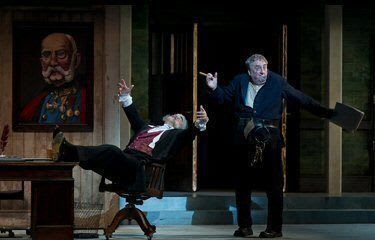 Johannn Straus II is said to have written his sparkling operetta Die Fledermaus to raise Viennese spirits after the Black Monday stock market crash of 1873. In our own 21st century times of economic depression Jonathan Copley's spirited new production for Welsh National Opera is just the ticket to banish thoughts of crisis and budget blues.
Vienna-born Thomas Rösner who must know a thing or two about this comic opera, conducts at a pace to set feet tapping and hands clapping - and, my, how they clap when the final curtain falls on this cheerful performance.
Die Fledermaus (The Bat) is a light-hearted entertainment which climaxes in a grand ball with all the joi de vivre of New Year's Eve.
Copley describes all the characters of this tale, taken from a French farce, as "scamps" and the strong company of soloists all take him at his word. There is not a serious moment in the entire evening as the tale moves from a comfortable house in the spa town of Baden, to the plush partying at Orlofsky's villa, concluding in the unexpected sobriety of the local gaol.
Of course, in the luxurious setting of Baden even the gaol has a certain jollity about it, enhanced by an excellent performance from Desmond Barrit as the prison warden Frosch.
And when Paul Charles Clarke, splendid in the role of the hapless imprisoned tenor Alfred, not only sings a selection from Il Trovatore (the scheduled work for the following night's WNO performance) but also introduces a snatch of the TV advert "Go Compare", the audiences are in the proverbial stitches.
Scottish oratorio singer Joanne Boag is a comely Adele, stirring the full house with her big numbers, "The Laughing Song" and the popular Act 3 demonstration of her acting skills.
Mark Stone, who may be seen running this year's London Marathon for a children's charity, is an athletic Eisenstein and there are strong performances too from Alan Opie (Governor Frank), the Estonian mezzo Helen Lepalaan (Count Orlofsky) and from David Stout in the title role.
There was understandably an ovation for the Sicilian dramatic soprano Nuccia Focile (Rosalinda) whose Act 2 Hungarian Czardas is among the treats of this exciting production.
Design is by Tim Reed and the excellent costumes, a particular highlight with Stuart Hopps excellent choreography of Act 2, are by Deidre Clancy.
Touring to Bristol Hippodrome, Plymouth Theatre Royal and Milton Keynes.
Reviewer: Kevin Catchpole