The Magic Flute
Wolfgang Amadeus Mozart
Welsh National Opera
Wales Millennium Centre, Cardiff, and touring
(2008)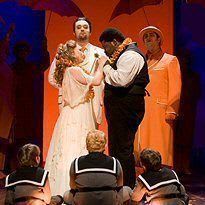 "You do realise it doesn't make sense?" Stephen Fry asked Kenneth Branagh when invited to try his hand at a new adaptation of the libretto of The Magic Flute for a film, now on release. "You'll go mad if you try," he advised. The revival by the WNO of Dominic Cooke's production of Mozart's most glorious, sunniest opera has, however, prompted some to make the attempt, albeit bootlessly.
The occasion for the renewed outbreak of head-scratching is Julian Crouch's enigmatic set design, a raked stage with an interior painted like a summer sky; white clouds on deep blue, studded with a succession of doors. As well as evoking a painting by Magritte, the set also brings to mind an early equally surreal scene from the cartoon film, Yellow Submarine, an impression confirmed by the appearance through three of the doors of a monstrous, malignant prawn (a snake in the original).
The set has led some perplexed viewers to speculate that the set represents the interior of a head with cast members representing variously the Ego, Id and Superego. Others have taken issue with the perceived lack of respect afforded by Crouch and Cooke to the Freemasons who in several scenes here appear with only their day-glo orange bowler-hatted heads visible above holes in the floor. After all, the argument runs, these are Freemasons dedicated to the pursuit of higher truth. As Lear had it, and Fry might have; "Oh reason not the need". Better to accept it all as pantomime.
And that said, what larks there are to be had. Things fly because, in the words of G K Chesterton, this production, revived here by Benjamin Davies, takes itself lightly. Jeremy Sams' English version is delightful, witty and fleet of foot. Papageno who is seeking a wife, asks, after appealing to the audience, "Is it me who's hard of hearing/or is no-one volunteering?" The aforementioned design by Crouch, best-known for his work on the much-acclaimed Shockheaded Peter, bodies forth the sense of fun and wonder which marked that sense of production, together with a whiff of sulphur.
The cast are excellent, with particularly notable contributions from Neal Davies as Papageno and Rebecca Evans as Pamina who, justly, gained roars of approval from the audience. There are also strong contributions from David Soar as Sarastro and Camilla Roberts, Anne-Marie Gibbons and Joanne Thomas as the Queen of Night's women. After some initial sharpness, Laure Meloy grows strongly as the Queen of the Night. The only real weakness here is Russell Thomas as Tamino who is enjoyable enough to listen to but who fails to otherwise make his presence felt on stage.
There is fine support from the Orchestra of the WNO conducted here by Gareth Jones. A strongly recommended antidote to the lows currently over most of the British Isles.
Touring to Llandudno (22nd March); Southampton (25th & 28th March); Milton Keynes (1st & 4th April); Bristol (8th & 11th April); Plymouth (15th & 18th April) and Swansea (22nd & 25th April).
Kevin Catchpole reviewed this prodction in Southampton
Reviewer: Pete Wood