The Magic Flute
Wolfgang Amadeus Mozart.
Welsh National Opera,
The Mayflower, Southampton, and touring
(2008)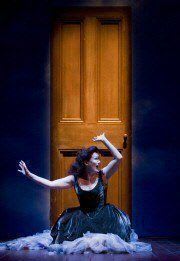 Mozart's popular opera The Magic Flute usually comes in one of two moods - solemn, bristling with the liturgy of The Square, or light, mischievous and ready to poke fun at human fascination with ritual at every turn.
This production for WNO by Dominic Cooke, revived after three years by Benjamin Davies, certainly taps the lighter vein.
For a start, the monster, always the yardstick for the director's mood, is a lobster! Any ideas, thereafter, of dark forests and sinister doings, of the kind essayed by the likes of Jonathan Miller, are dashed and the full house at Southampton's Mayflower would have been in little doubt that they were in for a night of smiles and jests. Music too of course, for, whichever style is chosen, Mozart has the first and last chord.
Curiously enough, Russell Thomas, whose Tamino opens the story and whose tenor is amongst the finest, Stuart Burrows apart, I have heard in this role, appears distinctly uncomfortable amidst such flippancy. It is not that his powerful figure and dark countenance seem chiselled for Verdi or Wagner, rather his whole persona appears poised for tragedy - which this certainly is not. Yet Thomas soon demonstrates in his lighter register that he is as lyrical as they come.
Papageno is excellently sung by Cardiff Lieder prize-winner Neal Davies, wanting only a touch more comedy for some of us, while there is a strong account of the Queen of the Night from the American Laure Meloy who has cornered the market with her account of this role.
And there is a comfortable Sarastro from the English bass David Soar. Complementing the three ladies of Act 1 is the trio of boys - two trebles and an alto- who bring a fresh touch of innocence to the comedy around them.
Yet the real treat of the evening, all too brief as it is, is the voice of Rebecca Evans as Pamina, a Welsh talent that is increasingly sought by operatic stages around the world.
Settings by Julian Crouch are, like the costumes of Kevin Pollard, something of a challenge, certainly to traditionalists. The doors and their number vary throughout the performance, and become steadily more distracting - as do the tangerine suits of the bowler-hatted masons which reminded me of a Blackpool football team!
And after an overture which, even in this huge theatre, seems loaded towards more forte than was necessary, conductor Anthony Negus takes the performance along at a pace as smart as the colourful brethren of the temple.
This performance of "The Magic Flute", which is repeated at Southampton on Friday 28 March, can also be seen at Milton Keynes (1st and 4th April), Bristol Hippodrome (8th and 11th April), Plymouth Theatre Royal (15th and 18th April) at 7.15 pm and Swansea Grand Theatre (22nd and 25th April both at 7.00pm).
Pete Wood reviewed this production at the Wales Millennium Centre
Reviewer: Kevin Catchpole