Jenufa
Leoš Janácek
Welsh National Opera
The Mayflower, Southampton, and touring
(2008)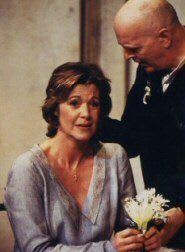 It is not difficult to believe the story that Janácek did not so much compose Jenufa as fight with it.
A grim story of the seamy side of life: dour mill workers, an ill-fated romance and a child death not dissimilar from the tragic story of Baby P in our own times.
Small wonder that past directors and their designers have been seen to place this sad story amid colourful, even spectacular cornfields of undulating golden sheaves.
Not so Katie Mitchell whose production for Welsh National Opera, revived this week at Southampton's Mayflower, is as gloomy as the story it tells. Anti-heroes, fallible mortals all, move slowly around the grim Buryja mill. Jenufa, sung here by the powerful Sicilian soprano Nuccia Focile, awaits vainly for the drunken, and surprisingly mature, Steva (Stephen Rooke).
The Bradford tenor Peter Hoare is an excellent casting in the meaty role of her frustrated lover, Laca, while the Kostelnicka (Sacristan), another strong character (Jenufa's stepmother) is in the capable hands of experienced soprano Susan Bickley
The powerful score, entirely unrelieved by such trivia as arias or even Moravian folksong, is beautifully performed by the orchestra under Sian Edwards. This is by no means the prettiest Czech music but then it matches the severity of its subject.
Vicki Mortimer's design is similarly unremitting to complete an evening of powerful music drama, after which a night at The Barber of Seville seems almost like flippancy.
This production will be staged at Birmingham Hippodrome (19th November), Venue Cymru, Llandudno (26th November), and Oxford New Theatre (Wed 3rd December).
Pete Wood reviewed this production at the Wales Millennium centre, Cardiff
Reviewer: Kevin Catchpole