The Merry Widow
Franz Lehár
Welsh National Opera
Southampton Mayflower and touring
(2005)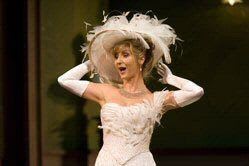 Often have I railed from this column about the reluctance of opera companies to use surtitles for performances in English. What right, I asked, have they to assume that we can follow the intricacies of opera simply because they are expressed in our own tongue? And why should we enjoy every word of Wagner, Verdi and Richard Strauss but not Britten, Tippett - even W.S Gilbert?
In the case of English National Opera my prayers were swiftly answered with the result that today Coliseum audiences revel in vernacular comprehension thanks to the titles.
Which brings me to Welsh National Opera and their otherwise delightful revival of Franz Lehár's The Merry Widow, which drew a packed house to the Mayflower, Southampton.
Lesley Garrett, the trim, athletic Yorkshire lass who projects her clear soprano around the vast area of the old Hippodrome with as much gusto as she delivers the spoken text, comes as close as almost anyone else on stage to clarity. Not that the story of an impoverished Balkan state desperate to hold on to the fortune of a young widow is particularly difficult to follow. But it would be nice to share the nuances of these Pontevedrian characters, particularly with such a strong cast of singer-players.
Donald Maxwell, an Olivier of the operatic stage who, among many triumphs, has produced a fine Scarpia for Tosca and an excellent Don Alfonso for Cosi Fan Tutti, here comes up with a fulsomely lugubrious ambassador Zeta, charged with the awesome task of uniting Hanna Glavari, her fortune and Count Danilovitsch in the pecuniary interests of the fatherland. Aiding and abetting is his eccentric factotum, Njegus, an excellent, angular performance by Geoffrey Dolton which threatens to steal the show.
Ailish Tynan, as Zeta's young wife Valancienne, is bedevilled by the Mayflower acoustics and her tendency to drop her voice into the orchestra is surprising in one so relatively experienced. Many of the cast, however, suffer a similar fate and not even the otherwise splendid Miss Garrett escapes without some loss of projection.
Perhaps conductor Michael Klauza could help with a more sparing use of his orchestral forces. Elegant though the strains of Lehar undoubtedly are, it would be nice to hear the narrative they are accompanying.
That said, I have a sneaking feeling that designer Christian Fenouillat may have recognised the singers' plight in using only half the stage. He certainly wastes little Pontevedrian currency on lavish settings, allowing only modest staging for the most famous first entrance in musical theatre.
No such criticism can be levelled at the costumes of Agnosto Cavalca. His wardrobe for the widow herself is spectacular, not least her startling Quality Street number for the Vilja scene.This, inevitably, is the highlight of the show with Garrett at her most regal in voice and figure.
The production will be staged again at the Mayflower on Thursday 1st December before transferring to the Liverpool Empire for performances on 6th and 8th December.
Reviewer: Kevin Catchpole