Otello
Giuseppe Verdi
Welsh National Opera
Southampton Mayflower
(2008)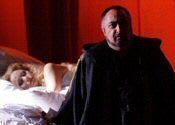 Only months after Bryn Terfel delivered a tour de force as Falstaff, Welsh National Opera were back at the Southampton Mayflower this week with a stirring performance of Otello by the same team of Shakespeare, Verdi and the Italian poet Arrigo Boito.
In the vast reaches of the Mayflower, Dennis O'Neill handed the title role to the Southport-born tenor Terence Robertson with Amanda Roocroft continuing in the role of Desdemona.
Roocroft's silken soprano is the mainstay of this performance, although, as one might expect, hard on her elegant heels is that of the Welsh baritone David Kempster, a thoroughly evil Iago.
Otello has been described as "the perfect opera" though director Paul Curran, whose current production opens with a spectacular storm and full chorus and ends with the tragic bedroom scene, contents himself with "one of the greatest".
There is a serenity about the opening love duet in Act 1 which will not be matched since the sour influence of Iago takes hold of proceedings from now on. Even if you were not familiar with Shakespeare's original, it is doubtful whether the eventual outcome would be in any doubt.
Neither does Robertson's Moor, strangely light-skinned for my taste, show any more sense than the bard's original. It is always a phenomenon to me that such a fool could ever reach high office, let alone supreme military command. Unless, that is, his promotion is due solely to his youth and physical courage. All the same, I doubt we would have prevailed in one world war let alone two with such a faint field marshal's baton in his knapsack.
Iago's famous credo "I believe in a cruel god" is sung with utmost conviction by the splendid Kempster and from here the performance builds steadily to Otello's passionate oath at the end of Act 2, "See you swear, ye heavens".
Act 3 opens with the ambassador grandly sung by David Soar before Otello's rage builds once more until Iago stands triumphant over his prostrate form. The bedroom finale gives us a delightful account from Moorcroft of the sorrowful "Willow" song and "Ave Maria" followed by Otello's own demise to the evocative music of the sad couple's earlier duet "A Kiss".
This production of Otello with its splendid settings by Paul Edwards and excellent lighting by David Martin Jacques will be staged on Friday 14 November, Southampton), on Tuesday 18th and Friday 21st (Birmingham Hippodrome), Tuesday 25 and Friday 28th November (Llandudno), Tues 2nd and Friday 5th December (Oxford).
Reviewer: Kevin Catchpole