The Sacrifice
James Macmillan, libretto by Michael Symmons Roberts
Welsh National Opera
Mayflower, Southampton
(2007)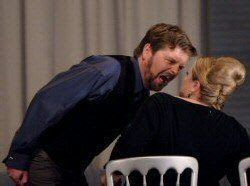 A brand new – British – opera, with the composer himself at the rostrum. This was the treat awaiting enthusiasts at Southampton's Mayflower on Wednesday.
James Macmillan's new opera noir, The Sacrifice, was the work in question. But whether the event was quite what the modest audience expected is another matter, though as it was, indeed, a modest audience, perhaps expectations were after all fulfilled.
First performed at the Millennium Centre Cardiff only a month ago, The Sacrifice, with libretto by Michael Symmons Roberts, is a story rooted in the Mabingion of Welsh mythology with the result that while its origins may be familiar to the welsh scholar, they do not strike chords with the average operagoer, however enthusiastic and musically educated.
Prior to the opening curtain, a glance down into the pit reveals what one onlooker termed: "wall-to-wall percussion". That was something of an exaggeration as there is much brass there as well as the usual compliment of strings – not to forget the harp.
As for the noir aspect, this is no exaggeration for The Sacrifice is a dark tale indeed, set in a nation torn apart by war. In fact, as we have the slaughter of children and even the distinct ring of an anvil, one needs only the addition of gypsies to evoke a modern revival of the Verdi work which occupied this stage the night before!
All things considered, it is as well that the composer is at the rostrum. After all, he alone, for now at least, knows what is wanted. When working with Symmons Roberts in, of all lonely places, the Isle of Skye, Macmillan recalled the great collaboration of Richard Strauss and Hoffmansthal for Elektra : otherwise, "leave the music to me!
Small wonder we hear, or imagine, Straussian chords as well as echoes of Britten from the tense strings.
Katie Mitchell's production is as dour as the score while Vicki Mortimer's design may well be a modern hotel but is certainly not war-torn as the plot would seem to require.
That Macmillan has produced a singer's opera, no-one can doubt and there are excellent performances from Lisa Milne as the bride Sian, Peter Hoare (Mal) and Leigh Melrose (Evan). Completing a strong team of principals are Christopher Purvis as the ill-fated general and Sarah Tynan as an eloquent Megan.
Whatever the limitations of this new work – and for all the assertion of the composer, it is not to my ear awash with melody, there is toward the conclusion a brilliantly scored chorus which makes remarkable demands upon chorus-master Simon Phillippo as well as the brilliant Welsh chorale itself. For this alone, The Sacrifice deserves to be remembered - if I fear sadly, for little else.
"The Sacrifice" can be seen on the next four Wednesdays at Venue Cymru, Llandudno, Bristol Hippodrome, Oxford New Theatre and Birmingham Hippodrome and at 7.30 pm on Monday 26th November the work has its London premier at Sadlers Wells.
Reviewer: Kevin Catchpole