Salome
Richard Strauss
Welsh National Opera
Southampton Mayflower
(2009)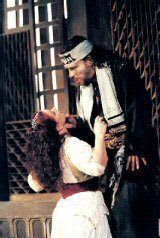 Banned in London, Paris and Vienna and censored in Berlin in the dog days of the 19th century, Oscar Wilde's symbolist extravaganza despite - or perhaps because of - its enormity, inspired Richard Strauss to write a score to match.
It follows that the opera - a music drama Strauss called it, after Wagner - suffered a similar fate.
Thanks to the enlightened times in which we live, Welsh National Opera meet no such censorial problems in staging the work today, albeit for a single performance in their current tour.
This is not, alas, a show to pack the house, however beneficial this might be to an audience of doubters. That is to say: it is not Rosenkavalier, however similarly thrilling is Strauss' score.
What it is, is a scorching retelling of a Bible story with far less inhibition than we find in the New Testament.
No overture or prelude but straight into the moonlit terrace of Herod's palace in Jerusalem where the Tetrarch of Judea, well sung here by the Bradford-born tenor Peter Hoare, is holding a banquet.
From the depths of a pit stage left boom the powerful tones of the excellent Jokanaan (John the Baptist) of Matthew Best. An apology had been given from the stage after Best's recent indisposition but, to judge from this performance, no such warning is necessary. After all, this is a young Wagnerian Helden baritone with stature to match his mounting experience.
There are nice performances by the mezzo Anna Burford (page) and tenor Robin Tritschler (Narraboth) and an excellent account from the mezzo Sally Burgess as Herodias.
Yet for all the splendour of the voices around her, the tour de force of the performance is the remarkable Swedish-American soprano Erika Sunnegardh.
Here is a voice to die for, late maturing perhaps yet without the strain of working big houses that can threaten the bloom of youth. And her movement in the Dance of the Seven Veils is also compelling. When this singer does her first Brunhilde, I would like to be there to hear it.
This production is directed with much Biblical authority by Andre Engel and the powerful design is by Nick Rieti.
The WNO orchestra is conducted by Aachen born Lothar Koenigs who later this year takes up the post of musical director. The beauty of this Srauss sound, for all that the orchestra is slimmer than the composer originally requested, augurs well for the future.
This production of Salome can be seen at Llandudno (18th March), Birmingham (25th March), Milton Keynes (1st April), Swansea (8th April and Bristol ( 15th April).
Reviewer: Kevin Catchpole