Tristan und Isolde
Richard Wagner
Welsh National Opera
Mayflower, Southampton
(2006)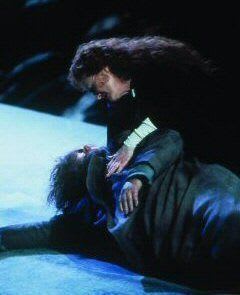 If any composer speaks dramatically to the audience through his music it is Richard Wagner – the more remarkable since as author of both score and libretto he stands out as musician and storyteller.
Emotion-packed Tristan und Isolde is revived this autumn by Welsh National Opera in the co-production with Scottish Opera, immaculately directed and designed by the Athens born Yannis Kokkos and first seen in 1993. This work relates through the prelude events preceding the opera from Tristan's early life, and his slaying of Isolda's betrothed to the voyage of the pair from Ireland to Cornwall.
This performance unveils a powerfully dramatic new Isolde in the Swedish soprano Annalena Person, winner of the 20003 competition for Wagner voices and already heard with WNO in The Flying Dutchman.
Miss Person has an attractive stage presence with a voice to die for. She quickly stirs the full house with her splendid outburst responding to the taunts of Kurwenal, sung by the excellent baritone Robert Hayward, another promising Wagnerian. There is also a nice performance by Susan Bickley as Brangäne.
Alas the Canadian John MacMaster, as Tristan, cannot match the exceptional feminine force on stage. No heldentenor he (at least not yet) and his stature is also against him in scenes of physical confrontation.
The settings are simple and powerful, symbolic rather than intrusive, a feature than allows maximum attention to score and voices.
The particularly clean lines of the castle scene for Act 3 form the perfect background for the approach of the hunt and the entrance of King Marke, thrillingly sung by the German Alfred Reiter. But the highlight of the evening so far is the duet in which the lovers crave for the night of death.
Yet with the death of Tristan and Isolde's transfiguration, the massive Wagner chords provide a worthy platform for a wonderful new voice as Miss Person thrills the house with the famous Liebestod, bringing the performance to a glorious curtain in a crashing orchestral climax which deservedly won an ovation for conductor Mark Wigglesworth and the orchestra.
The performance will be repeated at The Empire Theatre, Liverpool, on Saturday
Reviewer: Kevin Catchpole