Il Trovatore
Giuseppe Verdi
Welsh National Opera
Mayflower, Southampton
(2007)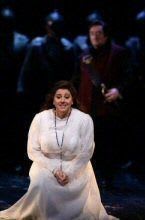 In an age of atrocities around the world, Verdi's virile masterpiece Il Trovatore is a work of our own times, demanding rediscovery and fresh examination.
Director Peter Watson scores heavily on both counts with his production for Welsh National Opera, warmly received by an enthusiastic house at Southampton's Mayflower Theatre on Tuesday.
Much credit to an excellent cast of principals – here led by the Italian Katia Pellegrino, a golden-voiced Leonora, excitingly partnered both by the sturdy young baritone Dario Solari (Di Luna) and, on this occasion, by the lyrical tenor from Mexico, Luis Chapa. Here are two voices to be reckoned with, the one a true Verdi baritone with style and presence, the other a romantic figure of, surely, enormous potential for the greatest operatic roles.
As if that were not enough, WNO have also the lovely mezzo voice – many in olden days would have called her "contralto" - of Anne-marie Owens as the gypsy Azucena, a splendidly dramatic performance. And there is also the excellent David Soar as Ferrando, charged, in the opening scene, with the formidable task of enlightening us about the extremely convoluted plot which, even more than usually on the operatic stage, seeks to cloud our comprehension of an otherwise thrilling tale.
Carlo Rizzi conducted the opening of the Southampton week with his customary authority, and if he seemed at times to be exercising a somewhat restraining influence on the brilliant score, then that, surely was no more than is necessary if the virtuoso singers, sans electrical aids, are to prevail in the vast reaches of this mighty auditorium.
Tim Hatley's designs are traditional and immense and, evidently, take some shifting - without offence to the splendid crew.
Highlights of a thoroughly melodious performance include Violetta's opening Taccia la notte placida, the famous "anvil" chorus, the stylish convent scene of Act 2 sc ii, Azucina's Giorni poveri vivia .In this scene comes also Manrico's lyrical A, sib en mio coll'essere, not to mention the rousing Di quella pira with that famous unscripted top-C– on this occasion, alas, rather clouded by the powerful surrounding Welsh male chorus.
The production can be seen again at the Mayflower on 26th October before touring to Llandudno, Bristol, Oxford, Birmingham and Swansea.
Pete Wood reviewed this production at the Wales Millennium Centre, Cardiff
Reviewer: Kevin Catchpole