Il Trovatore
Guiseppe Verdi
Welsh National Opera
Mayflower Theatre, Southampton
(2011)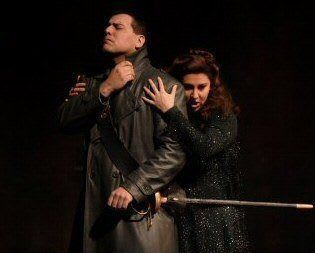 Of all the Verdi operas I have enjoyed, Il Trovatore is, without doubt, my favourite and Peter Watson's dark 2003 production, revived by Welsh National Opera at Southampton's Mayflower this week, is, with its strong casting, an excellent vehicle for what has been described as "the last of the great bel canto operas".
Sad to say, Trovatore (The Troubadour), appears to have fallen somewhat from favour in recent times. All the more reason then to savour this rare return of a production which originated at Scottish Opera.
A likely explanation for the absence of this once so popular work from British, at least, repertoires is the convoluted nature of the plot. Most of it is conveyed to us in narrative form, beginning with an extended prologue from Ferrando, here the excellent bass David Soar.
Even Scene 2 is storytelling, albeit this time from the heroine Leonora, now in the excellent silver voice of the Italian soprano Katia Pellegrino. At least now we meet the hero of the story, the ill-fated (eventually) Manrico, a truly brilliant performance by the Anglesey-born tenor Gwyn Hughes Jones.
At last the action has begun, the sombre tone of the work, emphasised by the solid-looking pillars of Tim Hatley's grim design.
Not that anything Verdi wrote could account for this opera's slip in the popularity stakes. It positively bursts with melody; "Tacea la notte placida" introduces Leonora followed by the charming cabaletta "Di tale amor". Almost immediately, the Troubadour is heard below serenading "Deserto sulla terra", to the annoyance of the on-looking di Luna, a powerful performance from the experienced North Wales baritone David Kempster whose "Il balen del suo sorriso" in scene 2 is one of the finest solos in the baritone repertoire and is beautifully sung.
Early in Act 2 as the action moves to the gypsy encampment we are treated to a rousing performance of the ever popular "Anvil Chorus" and the stirring narrative "Condotta ell'era in ceppi", powerfully related for this performance by Joanne Thomas.
At this point the production is notable for the director's fine use of chorus placing, creating pictures which are an essential balance to the heaviness of the settings.
But this is, of course tragedy and one of the most complicated instances of an abducted child in all theatre - and there are many - end with the deaths of all leading participants, save one. And he is hardly better off for surviving.
The production is at Bristol Hippodrome (31st March and 2nd April), Plymouth Theatre Royal (7th and 9th April) and Milton Keynes (14th and 16th April).
Reviewer: Kevin Catchpole