West Side Story
Book by Arthur Laurents, lyrics by Stephen Sondheim, music by Leonard Bernstein
Palace Theatre, New York
(2010)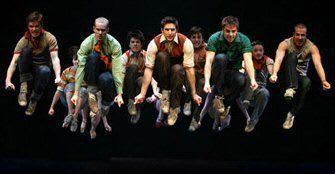 Sometimes being a theatre critic is pure indulgence. Watching the latest revival of West Side Story on Broadway is one of those occasions.
The writer of the original book Arthur Laurents, now in his nineties, directs and may be a little fussy for some tastes. However, the heady mix of Leonard Bernstein's great music and Stephen Sondheim's witty and at times tough lyrics, a story that started with William Shakespeare as Romeo and Juliet, and Jerome Robbins' exciting choreography would be hard for anyone to beat.
Apart from a handful of leads, the cast has been chosen primarily for their dancing skills and they excel in Robbins' original choreography helped along by Joey McKneely.
The music is edgy and packed with unforgettable tunes. This time around, the pick of the singing comes from the wonderful, if tiny Josefina Scaglione, a fine actress too.
The young Argentinian plays Maria, the girl who tries to love across impenetrable barriers. To emphasise those barriers, a fair amount of the text spoken by the Puerto Ricans is in Spanish.
With the city divided into warring gangs, the native Jets and "PR" Sharks, life expectancy can be short. The catalyst for trouble this time is Matthew Hydzik's Tony. Ironically, he has given up gang life but is dragged back in with triply fatal consequences.
Hydzik, with his matinee idol looks, clearly hits it off with his leading lady and brings a light, pleasant voice to the party.
The gang warfare is still as exciting as ever, thanks to the stunning choreography and a suitably grim set designed by James Youmans. This hits a peak in the big fight, which takes place in a claustrophobic cage beneath the railroad tracks.
All of the big songs - and West Side Story is packed with them - are delivered with vigour, even if the ensemble doesn't always feature the greatest singers. The highlights just keep coming, Maria, Tonight and America before the interval and a particularly witty Gee, Officer Krupke plus A Boy Like That afterwards, the latter song showing off the contrasting voices of Miss Scaglione and Karen Olivo playing the bitter widowed Anita with true relish.
It is hard to believe that anyone could be disappointed by this joyous but moving 2½ hours, other than devotees who still fondly recall some past production that they believe can never be surpassed.
Reviewer: Philip Fisher