Annie Get Your Gun
Music and Lyrics by Irving Berlin, Book by Herbert and Dorothy Fields
Young Vic
(2009)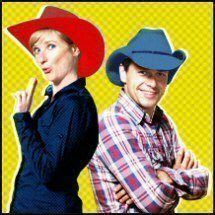 The pairing of Jane Horrocks and Julian Ovenden ensures that Richard Jones' inventive re-staging of this old favourite will be a sure-fire hit. It may be little more than a corny romantic comedy but Annie Get Your Gun is packed with great jokes and a pile of unforgettable popular songs from Irving Berlin.
The staging and lighting are to say the least eccentric but effective. In Ultz's hands, the Young Vic Auditorium becomes part of a star spangled banner (at one point mirrored in the heroine's dress) set around the widest, lowest and shallowest stage space that can be imagined for a musical. This is illuminated by Mimi Jordan Sherin and D.M.Wood with banks of lights pointing across and into the audience as well as at the performers.
The visual attractions are enhanced by witty short movies before each half, prefiguring the delights to come; and lovely train and boat journeys as well as the obligatory Wild West shoot out. Together, this aspect is all that one could wish for, which is not a bad start.
Irving Berlin's accompanying music is played by an unorthodox piano quartet, four pianists generally playing simultaneously.
The book by Herbert and Dorothy Fields is fairly pedestrian and must be far, far away from the true story from the Wild West frontier on which it is loosely based. However, the lyrics and music from Berlin with a little help from contemporary playwright April de Angelis are packed with witty repartee and good one-liners.
The story should be familiar. In this version, Jane Horrocks' Annie Oakley is first seen as a grimy, girlish guttersnipe in a Mickey Mouse tee-shirt with a single talent, but what a talent. Her ability to shoot like a marksman is tested when Buffalo Bill's Wild West Show hits Ohio and she is pitted against their hero, Julian Ovenden playing Frank Butler a handsome fellow with the animal magnetism personified when he introduces himself singing I'm a Bad, Bad Man.
Jane Horrocks may be no Ethel Merman (who created the role) but sings with great character, has a special brand of kooky charm that works perfectly and counterpoints the matinee idol good looks and perfect tenor of her leading man.
The contest between the two is close but eventually Cupid's arrows become more significant than the rifle shots. Then we enjoy a love-hate relationship that is the staple of so many stage musicals where male pride overcomes romance until an inevitable ending.
On the way, the pair show off their tonsils to wonderful effect both ind6ividually and duetting, with help from their colleagues and the chorus.
The list of hits is awesome. The first big one is Doin' What Comes Natur'lly sung mainly as a duet by Annie and her little friend Jessie, played on opening night by the highly promising new talent of 11 or so year old Tanya Michael-Davis.
This is swiftly followed by There's No Business Like Show Business, I Got the Sun in the Morning (and the Moon at Night) and then the evening's undoubted highlight Anything You Can Do, which brought the house down for the singing, acting and wonderful choreography.
The great songs, lovely comedy (with John Marquez providing excellent support as the sleazy "business manager" Charlie) and startling low budget effects together charm and should ensure that the Young Vic is packed through Christmas.
Playing until 2 January 2010
Reviewer: Philip Fisher