The Beauty Queen of Leenane
Martin McDonagh
Young Vic
(2011)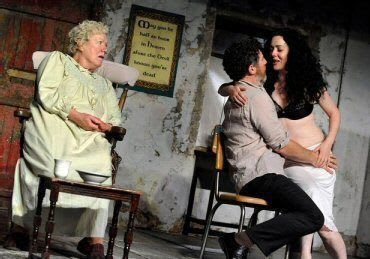 If ever a production was guaranteed to sell out, it is the return of Joe Hill-Gibbins' marvellous revival of The Beauty Queen of Leenane. Indeed, one hopes that a West end theatre has already been booked for a well-deserved transfer.
This director has a penchant for this kind of controversial black comedy with In-Yer-Face leanings. He also has the advantage of a fine understanding of this particular piece and its possibilities. This may in part derive from not being too much older than Martin McDonagh was when he wrote the play in his early twenties.
Having discovered this empathy, one hopes that Mr Hill-Gibbins and the Young Vic, where he is Associate Director, might consider reviving the other two plays in the Leenane trilogy and maybe also some of the writer's later work.
Rarely has a debut been so assured. Somehow, a writer brought up in London not only recreates life in an isolated part of Connemara but invents entirely believable characters.
While it must be easy enough to imagine his way into the skin of Ray Dooley, a teenager permanently at a loose end, that is only the start. McDonagh also creates his elder brother and, more ambitiously, the Folan women.
This duelling duo are unforgettable and a cast change does no harm at all. Rosaleen Linehan as 70 year old Mag is as wheedling and irritating as ever and lives up to the unforgettable performance of the late Anna Manahan who created the role.
Playing her daughter Maureen, Derbhle Crotty steps in and seems born for the role. In particular, she impresses as madness threatens the lovelorn "Beauty Queen of Leenane".
To describe the relationship between mother and daughter as fraught and claustrophobic is a severe understatement.
Being stuck in a small Ultz-designed cottage on top of a hill in the middle of nowhere with only a radio and each other for company is driving the pair of them insane. The kitchen/living room becomes a prison cell, its peeling walls symbolically saying so much about the occupants.
Their main problem is that they are too much alike. Using the sing song tones and rich language of the area, each knows exactly how to wind up the other and does so with glee.
For the first half hour or so, this leads to pure comedy, enhanced by the arrival of stir-crazy young neighbour Ray Dooley.
The story turns darker, as Maureen brings home his brother Pato in a desperate effort to lose her virginity, somewhat late in the day.
Now, the insults between mother and daughter become more vicious and one feels that soon things said might need to be unsaid and that can never happen.
By the later scenes, the comedy is so black that a significant part of the audience was audibly gasping. That is a tribute to the writer and director but also this carefully chosen, largely new cast.
While Mesdames Linehan and Crotty sublimely lead the way, the two male actors, Frank Laverty as bearded Pato and Johnny Ward in the part of angry Ray, give good value. It helps that each is blessed with a couple of great opportunities to show their talent.
The Beauty Queen of Leenane is a great play because it expands on a whole community through detailed characterisation of a quartet of inhabitants. It also makes visitors laugh as well as cry and that combination is a guarantee of a great night out. It may not come back again soon so buy your tickets quickly before they disappear.
Playing until 3 September
Reviewer: Philip Fisher