The Good Soul of Szechuan
Bertolt Brecht, translated by David Harrower
Young Vic
(2008)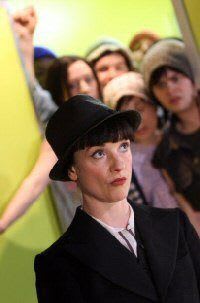 The team that brought Six Characters Looking for an Author to the Young Vic, director Richard Jones and writer David Harrower, has reunited to present a fresh take on Brecht's parable, using not the familiar text but what is known as the Santa Monica version, completed in 1943.
This 2¾ hour look at whether goodness can exist in modern society presents a supremely bleak world view. It starts with a pre-curtain introduction to Miriam Buether's all-encompassing, wood-panelled factory set. This is a marvellous creation and is home to scenes that as fully demonstrate the monotony of mechanised life as Charlie Chaplin's Modern Times.
The Good Soul on this occasion is Absolutely Fabulous and Little Voice star, Jane Horrocks who does a fine job in dual roles.
When three desperate Gods turn up in Szechuan, looking for any good person to validate their existence, their first hope rests with Wang, an autistic water seller given innocent charm by Adam Gillen. However, he short changes the punters so fails the test.
This helpful boy who really has a good heart does at least attempt to find them shelter for the night. Even this is nigh on impossible, until he asks the prostitute, Shen Te (Miss Horrocks). Imbued with innate goodness she accommodates them and is rewarded with riches.
These she invests in a tobacco shop but, like any lottery winner, is soon inundated with new friends keen to spend her money. Being such a good soul, she helps the lot but not herself.
Things become impossible, until her much harder-hearted cousin Shui Ta (also Miss Horrocks) comes along to chase off the leeches. He also ensures future wealth by setting up a thriving trade in heroin.
The actress has fun in regularly reinventing herself between good and bad, helping Brecht make his rather depressing point about the moral void that he perceived in society and the imperative that requires a good person to have an antithesis in order to survive.
That is pretty much the story but it gets repeated several times over with variations, the longest of which involves John Marquez as Yang Sun, an unemployed pilot, who becomes a prospective husband for Shen Te but only while the funds hold up.
The final scene in this rather long-winded morality tale sees the cousin in the dock, justifying his behaviour and, in doing so, indirectly condemning the way that we live our capitalist lives today, when ethics have been devalued and money has become far more important than living a good or honourable life.
Reviewer: Philip Fisher