The Government Inspector
Nikolai Gogol, in a version by David Harrower
Young Vic
(2011)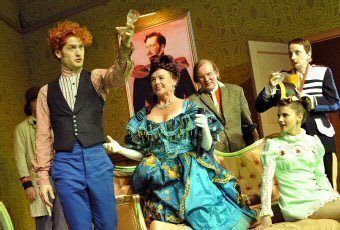 In his regular collaborations with David Harrower, opera and theatre director Richard Jones has never been afraid to stamp his own conceptual ideas on classic plays.
Purists will always struggle with such productions but lovers of the anarchic fare much better in his zany world.
The Government Inspector, which celebrates its 175th anniversary this year, is a play based on a single extended joke, albeit one of genius. The lack of complexity presents directors with great freedom to import their own ideas and stars with licence to do their own thing, without necessarily detracting from the spirit of the original.
Miriam Buether's highly adaptable set gives a good impression of what is to come. Visitors are led in through a maze that takes them across the stage, passing relaxed performers along the way. The stage design delights in kitsch and is vibrantly colourful, as are the deliberately tasteless costumes.
The acting follows suit, with Jones indulgent and probably encouraging when performers wish to go over the top. The result is patchily very funny although there are some lengthy longueurs, as jokes outstay their welcome.
The cast is led by an eccentric quartet. As the "inspector", Kyle Soller is a long, long way from his performance in the Glass Menagerie in the same space last year. His character, Khlestakov, is a rich man's lazy son with wild, carroty hair and an effete manner that could easily grate on anyone not kow-towing to his title.
In this town, though, that is hardly a problem as there are numerous local dignitaries eager to do that, led by the Mayor, The Mighty Boosh's Julian Barrett. He is self-important and fatuous, keen to feather his own nest and competing in unctuousness with his family members.
Doon Mackichan makes his blowsy wife Anna a horror in costumes that might have been cast off by losers from Strictly Come Dancing. Their 18-year-old daughter Maria, played by Louise Brealey, is a mini femme fatale, overwrought but desirable in an infantile way.
This trio and all of their neighbours dupe themselves into accepting that the lazy good-for-nothing is an important officeholder with the power to destroy their lives. The consequences are inevitable and much of the comedy very funny.
Pleasingly, not only do the locals pander to the greedy trickery of his master but also the more honest begging of the much more deserving servant Osip, wittily and grittily portrayed by Callum Dixon.
At various points in the 2¾ hours of The Government Inspector, there are some fine pieces of verbal humour as well as lashings of physical and visual attempts to amuse, a good proportion of which come off. This is one of those strange occasions where a director has shown rather too much imagination in his attempts to wow the audience.
Ultimately, this kind of evening will have far more appeal to lovers of today's surreal TV comedies than the Russian classics, which might be no bad thing for the Young Vic's coffers.
Playing until 9 July
Reviewer: Philip Fisher