Joe Turner's Come and Gone
August Wilson
Young Vic
(2010)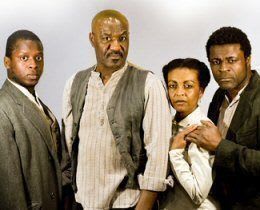 August Wilson is indisputably the great chronicler of the Black American experience through the Twentieth Century. His Century Cycle provides a play for each decade and Joe Turner, set in 1911, takes its place at number two in the sequence.
David Lan and his designer Patrick Burnier have filled the Young Vic auditorium with red dirt, permeating not only the in-the-round stage space but also the spaces under and behind the seats, not to mention visitors' bags and clothing for some time after the event.
Angry, entrepreneurial Seth Holly and his soul mother wife Bertha, played respectively by an unusually hesitant Danny Sapani and Adjoa Andoh, run a Pittsburgh boarding house. This is popular with lonely transients, often from the South where slavery might have ended but lingers in the mind.
Wilson has invented his own version of Magic Realism, the unearthly in his plays blending with the more practical business of making a few dollars and finding love.
The central characters are both burdened by a Southern past afflicted by Joe Turner, a kind of bogeyman who effectively enslaved or press-ganged Blacks to work for him, using the law to justify inhumane actions.
Film favourite Delroy Lindo has a long and close relationship with the play. He played Herald Loomis in the original Broadway production 22 years ago and directed it a couple of years ago at Berkeley Rep. For Lan, Lindo is imposing as Bynum, a fervent believer in his own brand of mysticism who has the power to bind people together.
Kobna Holdbrook-Smith, at the top of his game, is the latest Loomis, a sad, haunted man searching for peace and symbolic freedom. He is a recent arrival who has come North in search of the wife who, thanks to the efforts of Joe Turner, he has not seen for 11 years. In tow, he brings a vivacious young daughter, charmingly played on opening night by Leah Ocran.
The third member of the supernatural searching fraternity is Daniel Cerqueira's Rutherford Selig, a White travelling salesman with a sideline in people-finding, a trade at which he has magical powers.
As the 2¾ hour journey progresses, the metaphysical is lightened by the romantic, especially as Nathaniel Martello-White's Jeremy, the victim of a racist protection racket at work, first saves Mattie (Demi Oyediran) and then drops her at the first sight of Molly, a pretty flibbertigibbet amusingly portrayed by Petra Letang,
This trio weave their way through a story that is at times witty and heart-warming but at others chilling as it mingles human interest with sub-mythical responses to the evil that was slavery.
August Wilson really was one of the great playwrights of the later years of the last century and David Lan has done him proud with this atmospheric and emotionally charged revival. Everyone who sees it will be clamouring for more British productions of plays from this unique cycle.
Playing until 3 July
Reviewer: Philip Fisher