In the Penal Colony
Franz Kafka, adapted by Amir Nizar Zuabi
Maria Studio, Young Vic
(2011)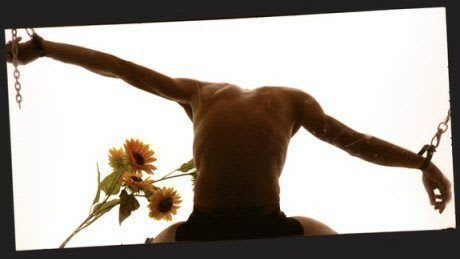 In the Penal Colony is a powerful, terrifying short play that is literally Kafkaesque. It may last no more than an hour but viewers will remember Amir Nizar Zuabi's updating for very much longer than that.
The adaptor/director has managed to move Kafka's original short story to a Palestinian setting today and in doing so maintained the character of the original while at the same time giving it new allegorical depths.
The story can be described simply. In a land far from home, two men are tied together as much by a strange symbiotic bond as the physical shackles that link them.
Since the penal colony is so far from home, it has been allowed to devise and perpetuate its own laws. They are those of the jungle, which is made all too clear as the central figure, The Prisoner, behaves and is treated more like a dog than a human being.
Amer Hlehel is his Torturer, a man who believes that he has a responsible vocation carrying out the wishes of his absent masters.
Tahef Najib is practically tortured himself in taking the role of The Prisoner, an innocent who did nothing worse than succumb to exhaustion while on duty and must pay a disproportionate penalty.
His punishment is horrific. He must spend twelve hours chained inside a cramped machine during which time his crime will be "engraved" on to his back.
The drama takes on a political dimension with the arrival of The Visitor played by Makram Khoury.
He brings a whiff of civilisation from the homeland, having been sent out to decide whether the torture is acceptable.
Initially, this new arrival does no more than impassively observe the inhumane treatment meted out to The Prisoner. He listens carefully while The Torturer explains how he makes his own laws and runs his own kangaroo court in which victims are not even given an opportunity to defend themselves.
He also gleefully explains how the sinister "machine", which inevitably takes centre stage between a field of sunflowers and stacks of chairs, operates.
The instrument of torture is a most unsettling structure and while its operation is artistically depicted, once it gets going there is still no other word for it than shocking.
There is a twist in the tail, when The Visitor finally announces his verdict. This has unforeseen consequences for all three men in an ending that neatly caps the evening.
On one level, this is a story that could not have been written by anybody but Franz Kafka. On another, it is a reminder to Western viewers that some Palestinians believe that their own experiences can be compared with those of Europeans during Kafka's lifetime.
In that context, it is for individual members of the audience to decide who each of the three characters might symbolise in the eyes of Amir Nizar Zuabi.
Regardless of their interpretation, the world will be a much better place when we cannot conceive of the kind of behaviour portrayed throughout this striking stage version of In the Penal Colony.
Playing until 23 July
Reviewer: Philip Fisher