Sus
Barrie Keeffe
Young Vic Claire Studio
(2010)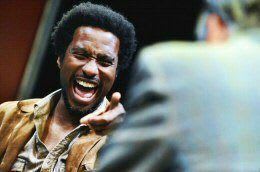 Gbolohan Obisesan's timely revival of Barrie (The Long Good Friday) Keeffe's modern classic is built around an unforgettable performance by Clint Dyer as Leon Delroy.
Surrounding the Claire Studio stage, there are effectively around 70 flies on walls, none more than a few feet from the open police interrogation room where Delroy believes that he has been picked up on Sus - suspicion of committing a crime (or merely of being Black?).
The events play out on the night in 1979 when Margaret Thatcher became every policeman's pin-up, fuelling in some cases racist dreams and promising good times for the elect. These, though, do not include Black men with three children and a weekly income of under £25.
Although the constituent parts might suggest otherwise, Sus is much more than yet another 70s police procedural. The play, first staged as early as June in that transformative year, acts as an extended metaphor that accurately predicts the consequences of a Tory landslide and the nature of a new style of Government that we now know survived for eighteen years and changed the face and heart of Britain forever.
Unemployed Delroy has been picked up near to closing time (when pubs still had them) and is visibly struggling to focus after a few pints.
Initially, the two policemen are impeccably polite. Their guest is also patient, sizing them up before introducing the "s" word that was so prevalent at that time, as a means to accuse innocent coppers of victimisation.
What we already know - and Delroy horribly discovers - is that his pregnant wife has been brutally murdered with a screwdriver and he is not so much the main as the sole suspect.
The 80 or so minutes of interrogation develop into mental warfare and eventually assault, before a rather predictable but nonetheless shocking denouement.
Clint Dyer puts so much into his performance that you wish on his behalf that every prize panel judge in the business attends a performance. His colleagues also fill their roles to order, Simon Armstrong as the sarcastic DS Karn and Laurence Spellman, quietly brutal DC Wilby, looking as if they have emerged from an episode of the Sweeney.
One imagines that David Lan commissioned this revival to open within weeks of the arrival of a new Conservative administration. As it transpires, this one came complete with a soupçon of LibDem flavouring.
The resulting inherent political dichotomy should prevent any anticipated repeats of the shocking, arguably Government-sponsored police brutality depicted in Sus and symbolising a popular mindset of the Thatcher period. Then again, maybe three decades, a more caring Conservative administration and a change in public perceptions would have done the trick anyway.
The Young Vic is on a roll, with Sus playing alongside the wonderful Joe Turner's Come and Gone. Barrie Keeffe has written a tremendous play which takes us back to a period that must inevitably speak to our own. It deserves to be a sell-out success once again and probably will be.
Playing until 26 June
Lizzie Singh reviewed this production in Birmingham
Reviewer: Philip Fisher