I Am Yusuf and This Is My Brother
Amir Nizar Zuabi
Young Vic
(2010)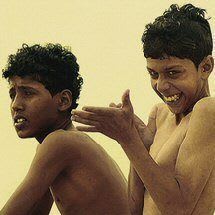 I Am Yusuf and This Is My Brother premiered in Haifa and subsequently toured villages and refugee camps in Galilee and The West Bank. It is a play designed to bring a slice of Palestinian history to the public.
The story that Young Vic favourite (Alive From Palestine and When the World was Green) Amir Nizar Zuabi, who also directs, tells has nothing to do with the current struggle in Israel, other than showing one of the strands that brought it about.
Seen from the perspective of 2000, the eponymous Yusuf the Village Fool and his companion of 60 years Nada re-live the painful history of their village.
We are taken back to 1947-8 and the period leading to Partition and the Balfour Declaration. There Yusuf, played as a young man by the wonderful Amer Hiehel, observes the burgeoning love between his brother Ali (Ali Suliman) and the beautiful Nada (Samaa Wakeem) against the backdrop of political instability.
The path of true love is terminally blocked, first by Nada's wilful father who has already promised her to another and then by history.
This love story plays out against a background of war, as the British Empire, personified by a good-natured private from Sheffield, played by Paul Fox, deserts the Palestinians and leaves them dispossessed, condemned to a harsh life for decades.
Amir Nizar Zuabi uses a simple, poetic style of presentation that gets under the skin, in part through its inventive theatricality.
Minimal lighting is used to illuminate a set that primarily features a large canvas sheet or sail and the atmosphere is enhanced by haunting funereal singing in Arabic.
By the end, the playing area is flooded, adding to the effect of helplessness, magnificently symbolised by one man who takes nothing from home but a tree that he has grown and will not leave to the new occupiers. He is portrayed by the versatile Yussef Abu Warda, who, amongst other characters, gives a poignant performance as the older Yusuf, helplessly watching his own tragedy unfolding.
Adding depth and poignancy, the collective plight of Ali and Nada with Yusuf in tow is observed in close-up by the older pair, which from an early stage suggests that Ali may not have come through. Indeed, he became a martyr but not for his people but love.
I Am Yusuf and This Is My Brother is a welcome glimpse into another world and, as such, deserves to be well supported.
Playing until 6 February
Reviewer: Philip Fisher