A Bronx Tale
Book by Chazz Palminteri, music by Alan Menken and lyrics by Steven Slater, based on the play by Chazz Palminteri
Longhurst Theatre, New York
–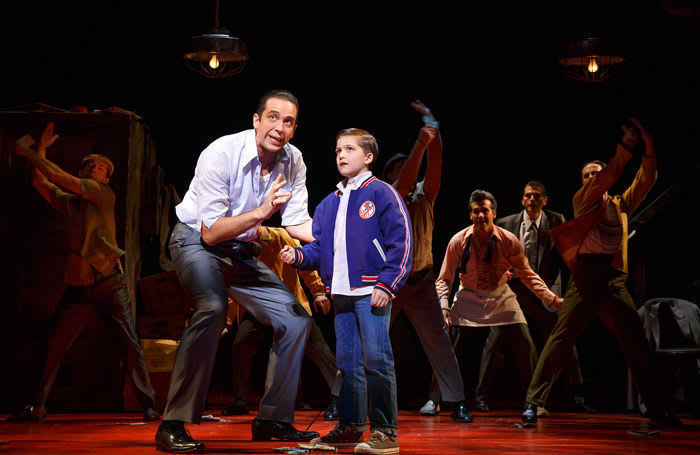 This musical has a long and complicated history. It started life as a self-performed solo by Chazz Palminteri, eventually transferring to an Off-Broadway theatre in 1989. Subsequently, it was transformed into a movie starring the writer alongside Robert De Niro, who also directed.
Now almost quarter of a century later, De Niro alongside co-director Jerry Zaks has brought the piece to the stage in musical form, the book once again penned by Palminteri, with music from Alan Menken and lyrics, Steven Slater.
The first half of this coming of age melodrama with gangster overtones, which is rumoured to be based on the writer's own early life, feels as mixed-up as the history but patience is eventually rewarded.
After the scene setting "Belmont Avenue" placing the action in the Italian-American area of The Bronx c. 1960, 9-year-old Calogero played with vigour by Hudson Loverro witnesses a gangland killing but maintains the kind of silence that is de rigueur in Mafia movies.
By doing so, he gains a (God-)father figure in Nick Cordero's Sonny. Now in the person of Bobby Conte Thornton making his Broadway debut and re-christened C, the young man advances to teen years in 1968.
There follows a tug of love between the now all-powerful Sonny and Calogero's actual father Richard H Blake portraying his antithesis, an honourable bus driver named Lorenzo who doesn't want to see his son going to the bad.
Just to add to the pain, the youngster falls for a black girl with a great soul voice but discouraging friends, Ariana Debose as Jane.
After the interval, the action really hots up with explosions, deaths and racial passion overflowing. The music, which moves between period standards, rock and RnB, also hits its stride with Nick Cordero crooning "One of the Great Ones" before the young lovers duet on "In a World Like This".
The ending is moral and sentimental in equal measure, as one might expect from a Broadway musical, allowing viewers to leave feeling a warm glow, having witnessed the world of gangsters and young hoodlums overcome by love and song.
Reviewer: Philip Fisher