A Charlie Montague Mystery: The Game's a Foot, Try the Fish
Tom Taylor
theSpace @ Surgeons Hall
–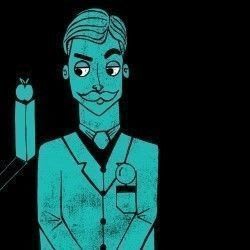 Charlie Montague lives just around the corner from Sherlock Holmes so becoming a private detective must have been an obvious career choice.
We are lucky enough to join the suave, moustachioed gent kitted out in smoking jacket and cravat to follow his maiden assignment.
This involves the standard fare—sexy wife worried about threatened actor hubby, her sexy sister, a penniless army type, old woman and various supernumeraries.
Charlie soon has to find a murderer and explain the underlying rationale for his shrewd conclusions.
Writer/performer Tom Taylor has a talent for speaking clearly without ever removing his tongue from its fixed position in his cheek. He creates good characters, has a fine sense of humour and impeccable timing.
This well-constructed spoof, which now has a baby brother, is from the same stable as The 39 Steps and The Play that Goes Wrong, with a big dose of Wodehouse thrown in for luck.
As such, it is a pure, laugh-filled delight and at 50 minutes doesn't overstay its welcome.
Reviewer: Philip Fisher