A Christmas Carol
Charles Dickens, adapted by Tom Morris
Bristol Old Vic
Bristol Old Vic
–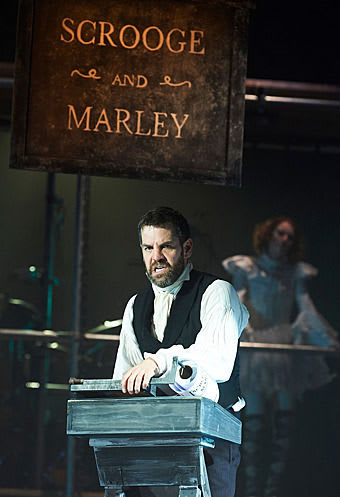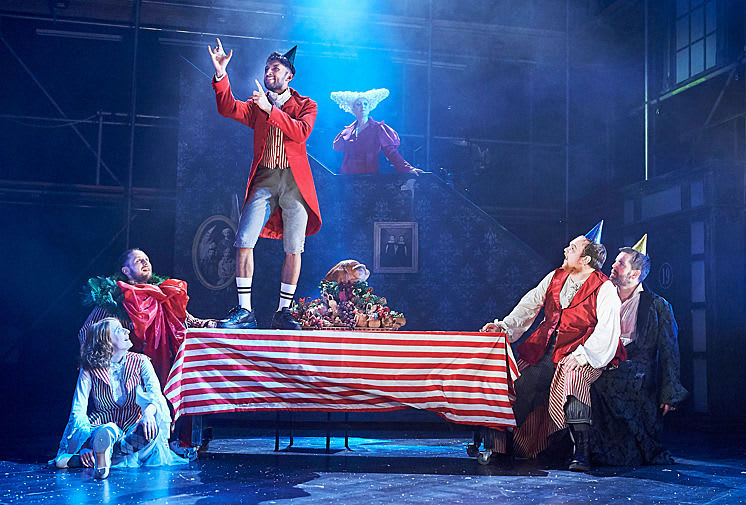 After a sell-out festive season in 2018, A Christmas Carol returns to the Bristol Old Vic main stage, with new casting that sees John Hopkins replacing Bristolian favourite Felix Hayes in the role of the money-grubbing miser Ebenezer Scrooge.
Though he has big shoes to fill, Hopkins fits them commandingly: huffing and impatient, peppering the stage with furious barbs, pressing his debtors until they are broken and embodying Scrooge's misery in his unwavering rejection of anything vaguely celebratory. Much of his rage is directed towards his employee Bob Cratchit, played by signing actor Stephen Collins; "I don't speak wavy language", Scrooge grouches, flapping away his kindly, mild-mannered clerk to do his bidding.
Charles Dickens's perennially performed classic dates back to the Victorian era's sentimental re-invention of Christmas, but Tom Morris's adaptation, once again directed by Lee Lyford, brings a freshness and energy to its narrative. With a gothic, steampunk aesthetic and captivating puppetry, it is a retelling richly redolent of Bristol Old Vic's 2016 production The Grinning Man.
When Scrooge is visited by the luminous Ghost of Christmas Past, though this segment does in places feel over-long, the simplicity of paper folding and shaping his favourite Sinbad story from Arabian Nights captures the power of the imagination. When he visits his future in a Christmas yet to come, the ghost is a macabre Grim Reaper who introduces Scrooge to the pitifully clinging puppet infants Want and Ignorance, strengthening his dawning realisation that he has been living a wretchedly empty, isolated life "like a beetle in a box".
Gwyneth Herbert's contemporary live musical score is exquisite, her ballads haunting and expressive, contrasting with the raffish exuberance of livelier numbers where the audience is invited panto-style to sing along. She also reprises her role as the convivial Ghost of Christmas Present, showing Scrooge how his own nephew Freddie and family are celebrating without him and the close family bonds of Bob Cratchit's clan, despite the depths of their deprivation.
A strong cast takes on multiple roles; Shane David-Joseph splendidly captures Freddie's constant joie de vivre, while Rebecca Hayes gives a sensitive portrayal of Scrooge's late-lamented sister Little Fan. Mofetoluwa Akande's singing voice is strong and pure and she shines as his lost love Belle, whose story in this version shifts to centre-stage.
In true festive show tradition, young members of the audience become involved in the storytelling, called upon to play a primary school-aged Scrooge and the pivotal role of Tiny Tim. When the scales finally fall from Scrooge's eyes and he reopens his heart to the joys of empathy and love, his conversion to a man of generous social responsibility takes place largely in the stalls—accepting the suggestion with good grace on press night that he should buy a round of drinks for all in the bar.
As Scrooge's Christmas evening party gets into full swing, the dank blacks and greys of Tom Rogers's skeletal multi-storey set are banished, to be replaced by bright ribbons of colour. The celebrations extend out into the audience, ending a captivating production on a high of much-needed ebullient seasonal celebration.
Reviewer: Claire Hayes