The Grinning Man
Book by Carl Grose, lyrics by Carl Grose, Tom Morris, Tim Phillips and Marc Teitler, music and orchestration by Tim Phillips and Marc Teitler
Bristol Old Vic
Trafalgar Studios 1
–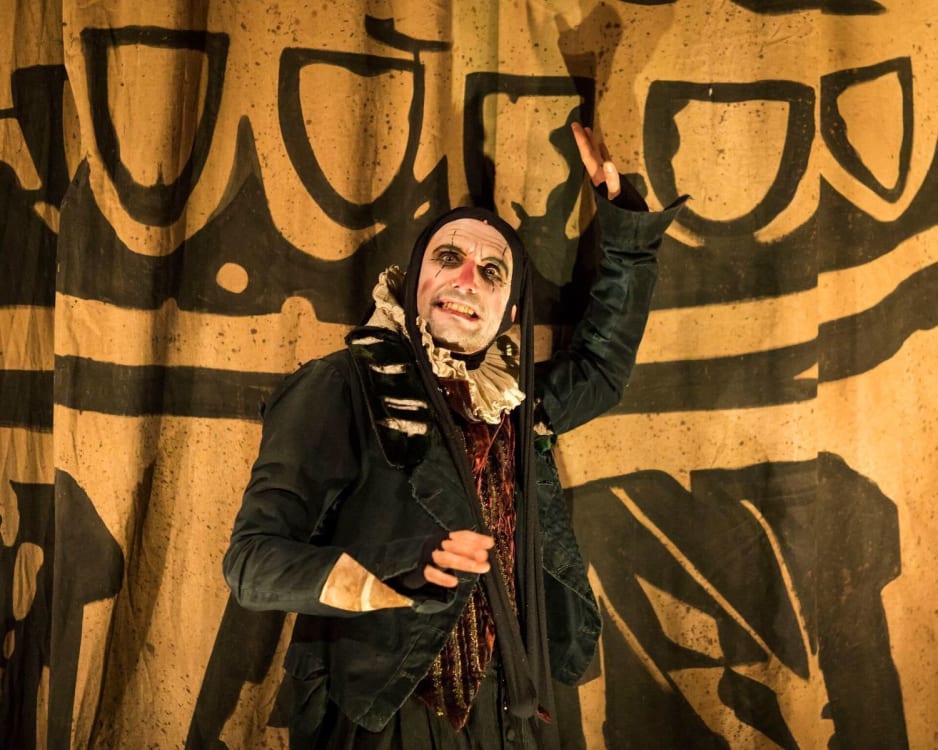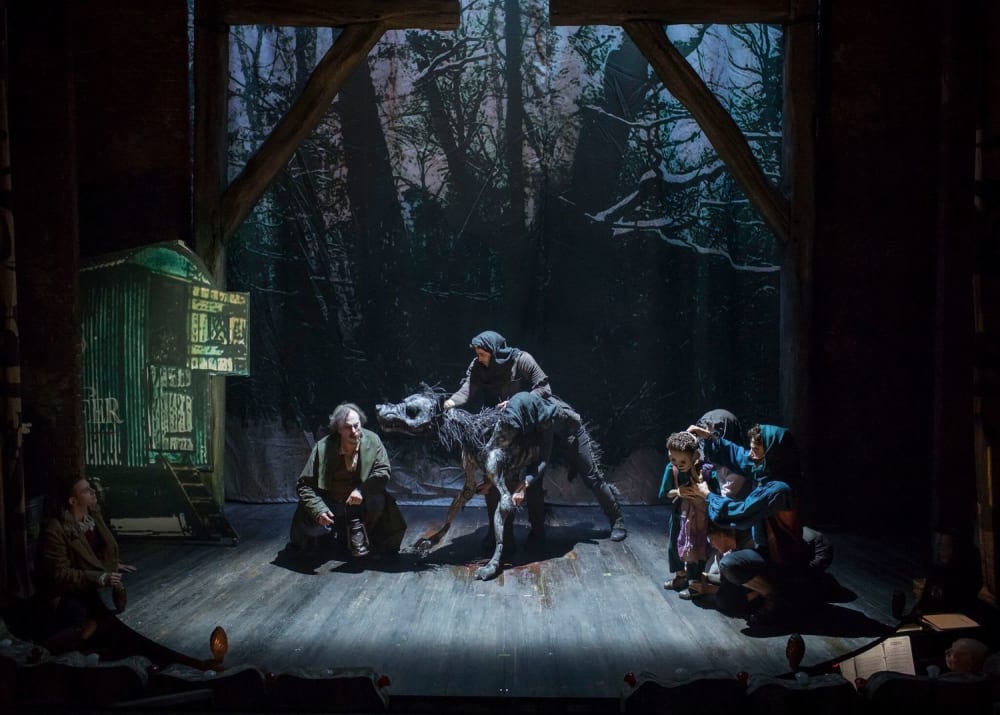 The run-up to Christmas this year is providing far more theatrical variety than usual. The latest offering started life at the Bristol Old Vic and just makes it to London ahead of the holidays.
This is seasonal entertainment at its darkest, courtesy of Victor Hugo, a French writer who would have been a millionaire had he survived another century or so to cash in on the stage and film success of Les Misèrables.
The Man Who Laughs started life as a novel that bears many of the characteristics of the writer. However, in the hands of Carl Grose, best known for his work with Kneehigh, it becomes a black comedy with the aura of a latter-day Jacobean revenge tragedy.
The other significant artistic influence is director and co-writer Tom Morris, who was co-director of War Horse and brings the same aesthetic to this production, which is graced by some wonderful puppets created by the team of Finn Caldwell and Toby Olié, both of whom had a hand (literally) in that hit production.
The story is like something out of a Grimms fairy-tale or melodramatic silent movie. Its central figure, Louis Maskell's ironically named Grynpayne, is so badly disfigured by an incident of which he recalls nothing that he becomes the star of a freakshow at Trafalgar Fair on the very site where this evening is now presented.
Thanks to the loving support of his father, played by Sean Kingsley, as well as the beautiful and very tuneful but blind Dea, Sanne Den Besten, he endures a hard life cheerfully enough.
However, when a Royal Prince turns up, everything changes simultaneously for both the better and the worse. Prince David's obsession with the freak soon attracts the attention of his Clown, Barkilphedro, played with delicious malice by the wonderful Julian Bleach, who has a tendency to steal scenes with his addresses through the fourth wall and comic timing, starting with his rendition of the show's opening song "Laughter is the Best Medicine".
The coronation of a previously silent new head of state, Julie Atherton in the role of Queen Angelica, leads to passion and many revelations, some quite absurd, in the writers' efforts to bring the evening to a satisfactory and highly moral conclusion.
The music will remind some of Les Misèrables, with its concentration on advancing the plot while revealing character with only a couple of big production numbers, all accompanied by the endearingly named five-strong band, Hans and the Bleeding Cheeks.
However, along with the unforgettable Mr Bleach and a powerful story that combines love and revenge in a satisfying fashion, most visitors are likely to remember this production for a series of lovely, old-fashioned visual effects, particularly the presence of Mojo the Wolf, a bunraku puppet who is rather like a ragged, skeletal second cousin to War Horse.
Reviewer: Philip Fisher