A Christmas Carol
Charles Dickens, adapted by Deborah McAndrew
Hull Truck Theatre Company in association with Leeds Playhouse
Hull Truck Theatre
–

Listing details and ticket info...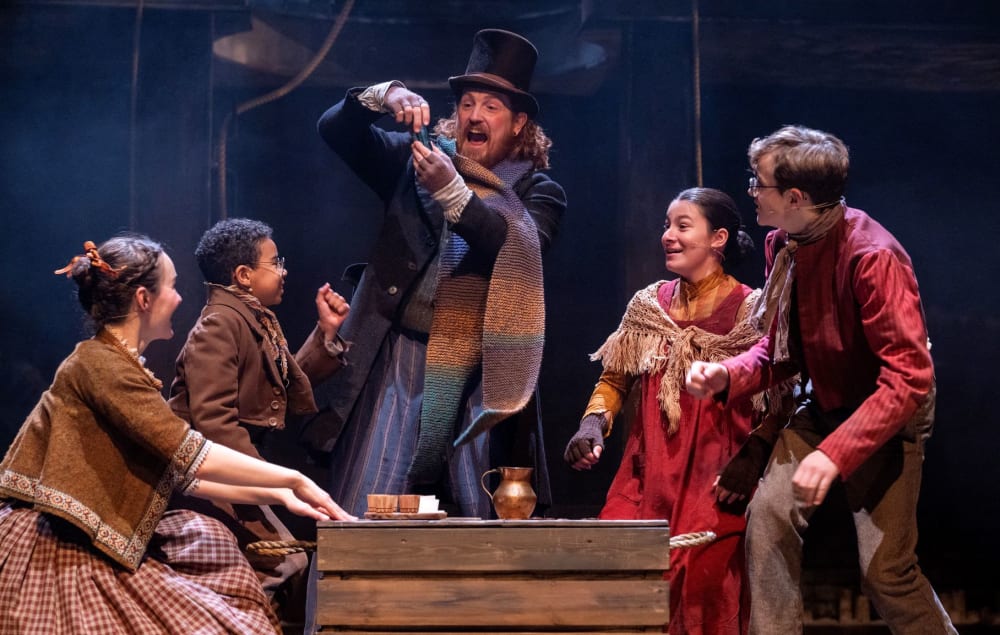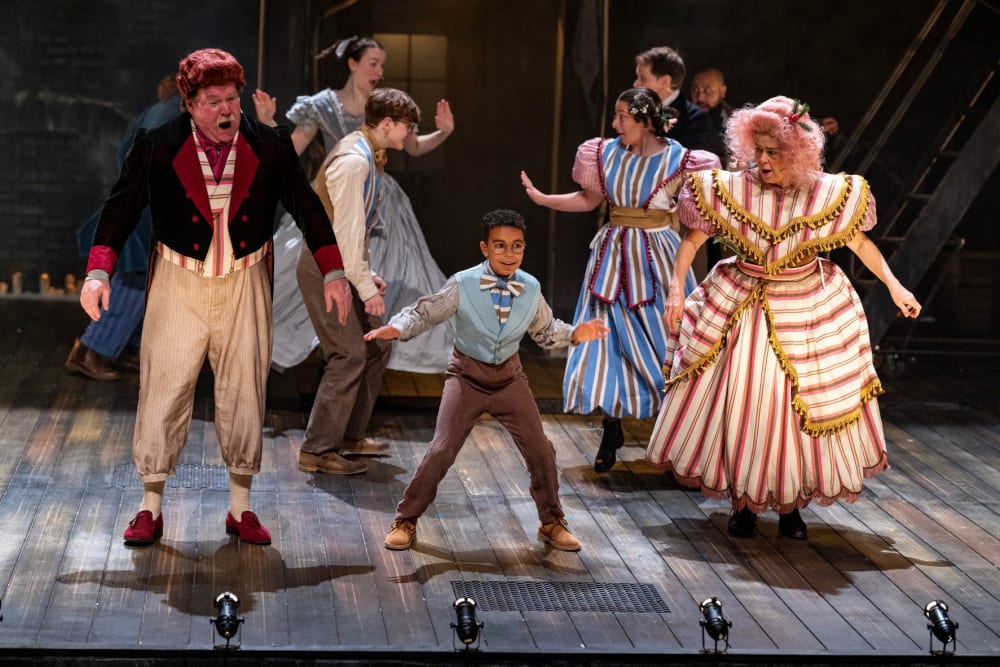 Some five years after the première of Deborah McAndrew's adaptation of A Christmas Carol for Hull Truck in 2017, the same adaptation has re-emerged as possibly the best Christmas main house show for years.
The decision to use deaf actors embedded into a mainstream production could cynically be seen as a nod in the direction of diversity. In this instance it's anything but. This was no box ticking exercise as Adam Bassett's startling performance as Bob Cratchit proved. He gave us the literal image of the voicelessness of poverty as he cowered before his employer, Scrooge (Jack Lord), virtually begging for the day off. In contrast, the communion which was achieved within the Cratchit family, where often other adaptations lapse into sentimentality, demonstrated an emotional intelligence and a robustness in the face of adversity. This wasn't the "we're poor but we're happy" rather cringey approach of many productions. Emma Prendergast (also a deaf actor) plays Mrs Cratchit as a resourceful and spirited woman, devoted to her family and ready to fight for it.
Whilst I get a bit tired of Truck's insistence that virtually every play staged there has to be set in Hull, Toots Butcher's magnificent set of the Victorian dockside offered the shadows, levels and dinginess of the industrial and commercial revolution: a perfect platform for the famous story. However, Truck's producers should not fear setting plays elsewhere. We audiences can handle it!
As Scrooge, Jack Lord was not the hard-bitten old miser of Alastair Sim fame. This was a younger man, still vital, lithe and athletic. His was a sneering, domineering presence, damaged and damaging as he crept around his employee, looking to pick faults and intimidate. For some, his transition from cruel to humane may have come a little too early or easily, but this was a man who seemed desperate for redemption, almost welcoming the therapy each spiritual visitation brought. It was a performance excellent for its lack of conventionality as much as anything else.
Sameena Hussein's direction was sharply focused and realised the changes in mood and tempo the story demands. She was ably supported by composer John Biddle whose music was mostly memorable for its more eerie and discordant moments. It is after-all a ghost story and some scenes should be bloody scary! The sound of a child in the audience crying out balefully "I don't like this" during the visitation of the Ghost of Christmas Yet to Come was very reassuring! A Christmas Carol shouldn't be 'chocolate boxy' or comforting until the very final scenes and Hussein and Biddle ensured that those moments weren't anticipated. In that vein, there could have been more of an impact at the appearance of the two children "Want" and "Ignorance". This is a savage and pivotal moment in the play but, as yet, is a little under-realised in this production.
It's possible that in the future, casts featuring deaf actors, completely embedded into mainstream productions, become the norm. So too casts featuring neurodiverse actors, visually impaired actors and actors with physical disability. Diversity is too often paid lip service to, not properly explored, interrogated or developed. Real diversity is not about institutions protecting themselves through tokenism, although that it far too often how it's manifested. When an entire company embraces BSL as an integral part of the production, this isn't tokenism; it's a realisation that genuine diversity makes theatre richer, more engaging and more memorable.
When I saw that Truck were reviving A Christmas Carol, written by one of only two playwrights they employ at this time of year (with the greatest possible respect to both of them), my heart sank. What I saw on stage, however, was something very special, very important and suitably celebratory. Merry Christmas Truck.
Reviewer: Richard Vergette