A Christmas Carol
Charles Dickens, adapted for the stage by Neil Duffield
Octagon Theatre Bolton
Octagon Theatre Bolton
–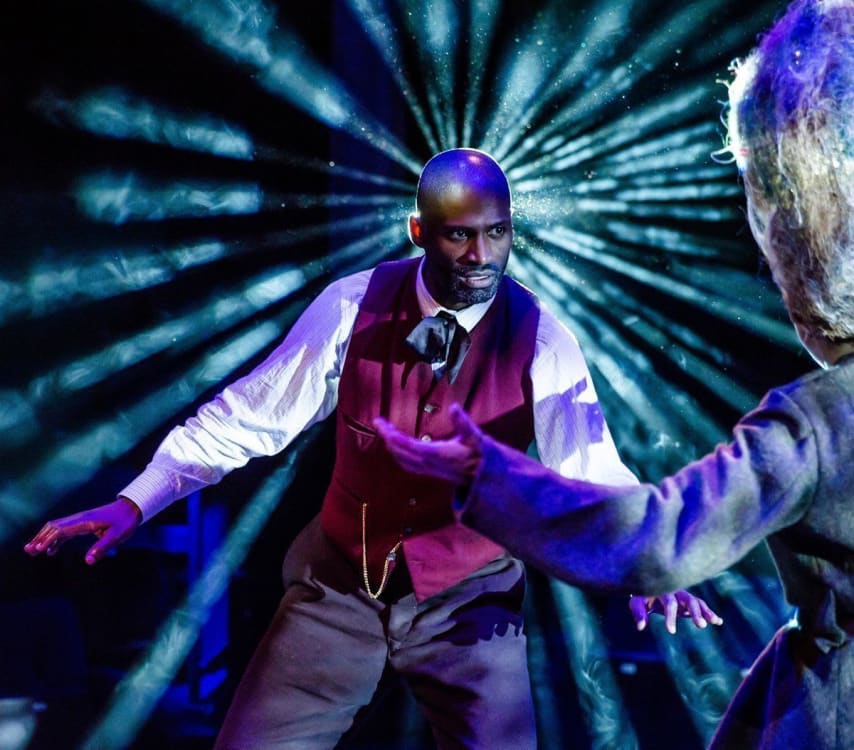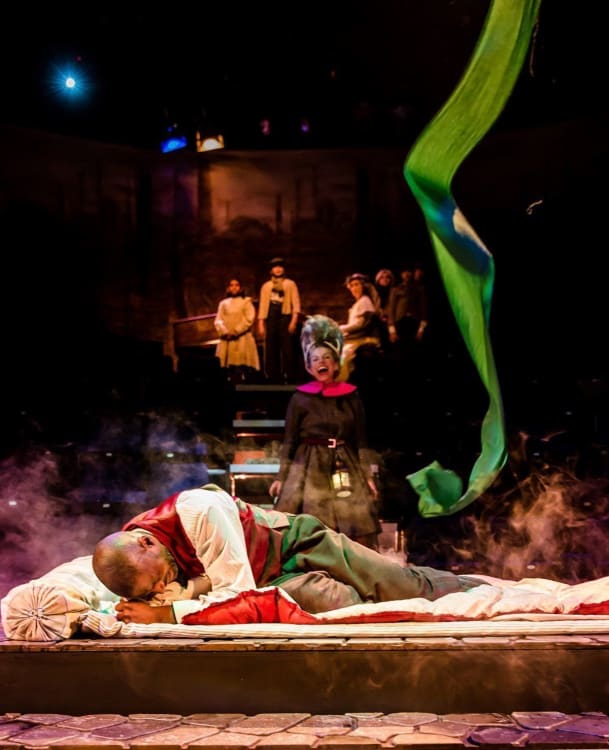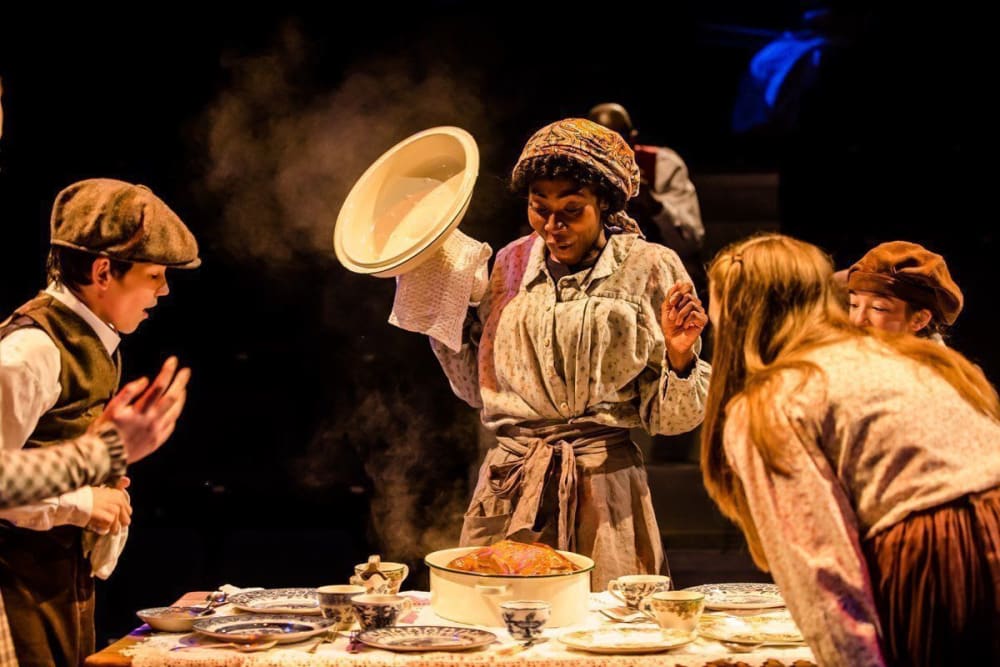 For its Christmas production, the Octagon has revived Neil Duffield's script of this Dickens classic morality tale which it last performed exactly ten years ago.
This time it is performed in-the-round as an actor-musician piece, which works very well, the music and choral singing standing out as a strong point of this production. Rob Hiley's arrangements of familiar Christmas songs are atmospheric and sometimes sinister, particularly the almost Sweeney Todd-like opening music. The sound balance wasn't always right on press night, the bassy electric guitar in particular drowning out the others, but this improved later.
The miserly lead is played by Octagon regular Marc Small, who is a little young for the part and so makes him a bit stooped and stompy, emphasising the physical clowning over the subtleties of characterisation and inflection to play to a younger audience. This makes it difficult for him when he comes to the serious, more emotional scenes, although he gets to grips with these a bit more after the interval.
Accompanying him is an ensemble cast playing multiple roles and multiple instruments, all quite effectively, amongst them Robert Jackson as a jolly Mr Fezziwig, Sue Devaney as a chuckling Spirit of Christmas Present, Martina Isibor as both Ebenezer's lost sweetheart Belle and Mrs Cratchit, Samuel Martin as nephew Fred and Ruby Ablett as the Spirit of Christmas Past.
Rather than Dickens's casting of a child as the Spirit of Christmas Past, the child is instead the non-speaking Spirit of Christmas Yet To Come, one member of a very impressive young company taking on various roles including young Scrooge and his schoolmates, the characters in Scrooge's storybooks, the Cratchit family and others, seamlessly blending in with the professional company.
Liz Clarke's design is colourful and varied, utilising a huge gauze curtain on a circular track which surrounds Scrooge's bed and is used as a backdrop for other scenes, very effective for in-the-round staging.
Duffield's script uses the chorus for some group narration but quite sparingly, with most storytelling coming through dialogue scenes, which are true to Dickens but sometimes seem a bit long and verbose.
Overall, Ben Occhipinti's production is fine but not particularly exciting, with little variation in pace or light and shade. The emphasis on the knockabout and the silly loses some of the more subtle humour and glosses over some of the potentially more emotional scenes. The scene where Belle finishes with young Ebenezer comes close, but it is over too quickly for the audience to feel anything.
But it is one of the greatest Christmas stories of all time told with efficiency for a family audience accompanied by good music and performed well by an ensemble of young and adult actors.
Reviewer: David Chadderton