A Companion to British-Jewish Theatre since the 1950s
Edited by Jeanette R Malkin, Eckart Voigts & Sarah Jane Ablett
Methuen Drama
Released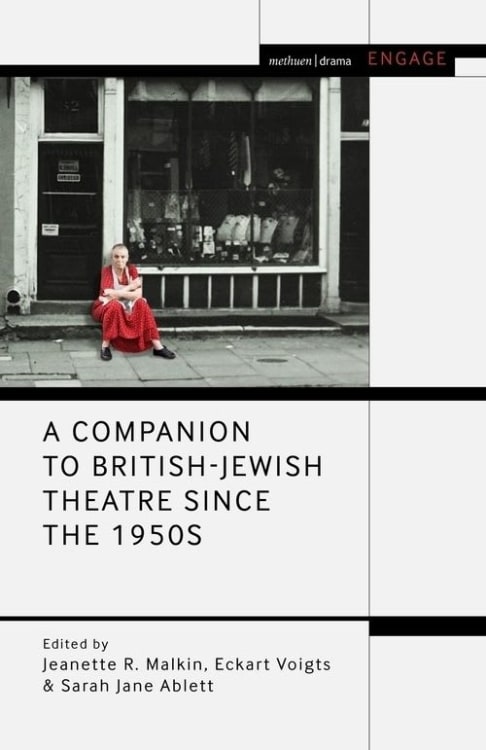 As this volume's trio of editors identifies, the subject of British-Jewish theatre is relatively untrodden. This will come as a great surprise, since, prima facie, it feels like a topic that is of great interest both to a specific theatre audience and also a rich source of exploration for academics.
Delving a little deeper, it quickly becomes apparent that there are far fewer renowned British-Jewish writers, directors and performers than one might imagine, assuming that those responsible for compiling the essays and interviews that make up this book have done their job diligently. The void is especially surprising, given that a relatively high proportion of producers and theatregoers in this country are Jewish.
Before considering individuals, the team was obliged to decide terms of reference. Even determining who can be claimed as Jewish can be controversial, since several of the high-profile actors cited were either converts or had mixed parentage. Broadly, there are two potential constituencies: first, British playwrights who happen to be Jewish; secondly, British playwrights who have written on Jewish themes.
The former list is sizeable, while the latter extremely limited, especially when compared to their American counterparts, where there always seem to be new Jewish plays popping up, particularly in New York. When it comes to distinguished playwrights to compete with Americans such as Arthur Miller, David Mamet and Woody Allen, Harold Pinter leads the field by a long way and gets two overlapping essays to himself.
Sir Tom Stoppard is a different case, since he was unaware of Jewish roots until his middle years, finally addressing them in Leopoldstadt last year. From roughly the same era, Arnold Wesker and Stephen Berkoff are next in line, although neither has been fashionable recently, while Mike Leigh has tended to work more on film than stage.
In the younger generation, Patrick Marber, Nina Raine and Ryan Craig top the list, the first having written one play on Jewish themes, the second one that is more peripheral, while the latter is an industry leader.
Sir Antony Sher and Jonathan Lynn, of Yes Prime Minister fame, might justifiably have figured more significantly, each having success as writers as well as actors, while Jack Rosenthal features large in the section on TV.
The Jewish community has arguably done considerably better in breeding directors. A chapter reminds us that Sir Nicholas Hytner, Dominic Cooke, Sam Mendes, David Lan, Nicolas Kent and John Smith were all operating the same time. However, none of these directors went out of his way to promote Jewish playwrights or themes. British-Jewish actors, who, one might argue, could also have been given a prime place, must wait for their opportunity to rise elsewhere.
From a number of different viewpoints, writers attempt to understand why British theatre has not embraced plays with Jewish themes such as the Holocaust and the conflict between Israelis and Palestinians more often. A question is asked as to whether this might be the result of anti-Semitism, although the case is not proven.
Ultimately, given all of those Jewish producers and Jewish audiences, the more likely answer is commercial imperatives. Had there been a greater faith in and demand for plays of this type, surely, they would have been produced on major stages rather than in small fringe venues, if at all?
It is perhaps a shame that nobody thought to write an essay on theatre and comparative religion. Without carrying out any detailed research, this critic has doubts about whether any other religions have been any better served than Judaism when it comes to stage productions.
The book finishes with five interviews with significant figures, of which Sir Nicholas Hytner's is very brief and those of Patrick Marber and the Jewish Chronicle's John Nathan the most satisfying.
Indeed, Nathan might well have been an ideal choice to edit and marshal a book of this kind, with his deep knowledge of the subject and an interesting approach in which he proposes that the reason why Jewish playwrights have an affinity for theatre is their naturally argumentative cultural upbringing.
Having read A Companion to British-Jewish Theatre since the 1950s and discovered much about an under-researched topic, it feels as if there is plenty of room in the market for further books, possibly starting with a history of British-Jewish theatre covering this period or even going back further.
Reviewer: Philip Fisher