A Doll's House
Henrik Ibsen, adapted by Bryony Lavery
Theatre by the Lake, Keswick
–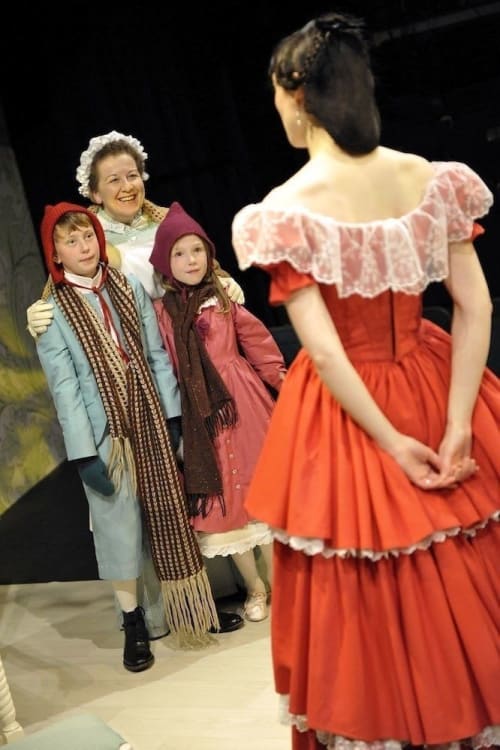 After last year's Someone Who'll Watch Over Me, director Mary Papadima returns to Theatre by the Lake for another studio production, this time of Bryony Lavery's 2004 version of Ibsen's classic play.
On a set of all-white furniture and green and white William Morris wallpaper designed by Thomasin Marshall, Nora and Torvald Helmer paint the picture of a happy young family celebrating Torvald's promotion and their future prosperity at Christmas. They are even able to help Nora's childhood friend Mrs Linde, now a widow, with a position with Torvald's new employer. However, as so often with Ibsen, something has happened in the past that will come back to destroy the happy home, in the process bringing the characters to some stark realisations.
Lavery's adaptation has a few odd lines in it but works fairly well for the most part, and Papadima's production is nicely-paced and clear throughout—except a rather odd and inexplicable ending which doesn't change the last line but switches its focus.
Augustina Seymour looks a little young for the role of Nora—perhaps she was a child bride eight years earlier—but she gives a remarkably mature performance that develops beautifully from the childlike Nora of the early scenes through her panic into the settled calm of her final realisation. As her uncomprehending husband Torvald, Nicholas Goode is never quite as convincing.
The production seems to really focus on portraying Krogstad as a good man who is forced into acting maliciously to save himself, which works well, helped by James Duke's deliberate, measured performance. The cast is completed by a very good performance from Joannah Tincey as Mrs Lindey, a warm portrayal of Dr Rank from Philip Rham and Nicky Goldie as servant Anne-Marie.
While it has some flaws, this is a clear and entertaining production of A Doll's House that works well for the most part, helped considerably by an extremely strong central performance of Nora.
Reviewer: David Chadderton