A Harlem Dream
Choreography and direction Ivan Blackstock, music Soweto Kinch
A Dance Umbrella / Young Vic co-production
The Maria, Young Vic
–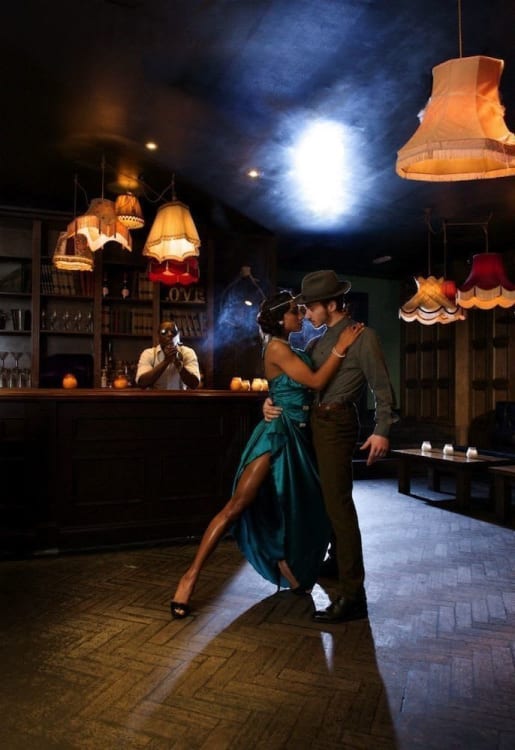 A nightclub joint in thirties Harlem, sultry music, burlesque girls... a light traces the outline of a body on the floor, how did it get there?
Inspired by 'the Harlem Renaissance, an African American cultural movement that emerged in response to the hardships of the Great Depression', A Harlem Dream aims to draw 'parallels with society today'. But its generic film noir story is universal: exploitation, corruption, love and betrayal.
Depression era hoofers on the make spliced with contemporary hip hop: speakeasy shimmy, lindy hop, tap dancing (on tables), jazz swirls, and acrobatic b-boy popping and locking, finger clicking clapping hands, and funky rhythms in retro fusion.
But there's too much talking and not enough walking, if you get my drift. Too much telling and not enough showing: dance so good I want more dance to carry the tale, not be its embellishment.
Hush your voices, let movement do the conversing and confessing in this dance theatre nightclub set-up, tables and chairs either side of a traverse set, ruched curtains and speakers at one end, girls in doorways at the other.
Choreographer, director and performer, Ivan Blackstock, co-founder in 2005 of BirdGang Dance Company, engaging physical storyteller to his twitching fingertips, a creative talent to watch, plays dead man Mo, the silent partner to garrulous ambitious Sal (Darren Charles on tremendous form).
Two wide-eyed hicks from the sticks in the metropolis: hard work and natural talent bring them from Jackson Mississippi to their mecca Harlem, where, to cut a story short, Sal sells his soul to the Devil, or rather to stick-thin, sleight of hand 'kingmaker', Déjà Blue club owner Mr Deville (Jared Garfield), and Mo gives his heart to Constance (Robia Milliner Brown).
Sal tells their story, but is he a reliable narrator? Play it again, Sal. Which he does, the dancers spinning in reverse like unspooling tapes or turntable scrubbing. Visual wit and cliché lit sensitively by Adam Carrée.
Mo is obsessed / possessed by music, and Soweto Kinch's wondrous jazz score (Jay Phelps on trumpet, James Douglas on cello, Miles Brett on violin) is enough to drive anyone into and out of him/herself.
Blackstock's solo, playing his body as if it were a cello, is mesmerizing. He's an electrifying performer who does not hog the spotlight.
Contact work, slo-mo and robotic dance, speedy spins and fearless flips, an impressive puppet in head office, comic strip violence, a soulful story with a moral: Sal sells out for money and 'bitches', Mo stays true to himself.
A Chandleresque Harlem Dream, Dance Umbrella's first hip hop commission and first co-production with the Young Vic shows twice a night in its intimate if cramped Maria studio space.
These dancers need more space to spread their wings. Wings they have aplenty. And heaps of promise that needs further development: A Harlem Dream feels like a show in embryo, its fifty minutes a bit of a tantalizing tease. Fun though: combine it with a meal and you've got a good night out.
Reviewer: Vera Liber