A King and No King
Francis Beaumont and John Fletcher
Red Bull Theater
–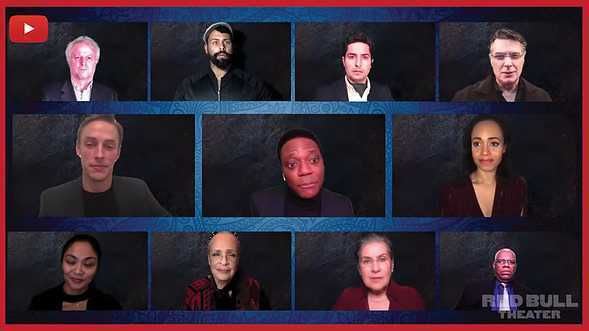 Anyone watching this madcap but exciting work written in 1611 will readily understand why Beaumont and Fletcher are amongst Red Bull Artistic Director Jesse Berger's favourite playwrights.
As with so many Jacobean plays, whether revenge tragedies or comedies, the plotting is clever and sometimes convoluted but also gives viewers an insight into the human condition.
The basic set-up is simple enough. King Arbaces of Iberia, played by a classical actor who works on both sides of the Atlantic, Chukwudi Iwuji, is a proud, pompous and naturally intemperate man always keen to have his own way. For the kind of diplomatic reasons that would have been obvious to anyone living in the 17th century, he decides to marry his sister, Cara Ricketts as Panthea, to imprisoned King Tigranes of Armenia, portrayed by Edmund Donovan.
This pleases neither of the prospectively affianced. In particular, Tigranes despairs since he is already engaged to be married to his doughty countrywoman, Teresa Avia Lim's Spaconia. With the assistance of Robert Cuccioli as the calm urbane Mardonius and Panthea, a scheme is cooked up to sidetrack the King's plans.
It undoubtedly seems contrived, but the injection of a vein of regal madness, somewhat reminiscent of the behaviour of King Leontes in a play written at almost exactly the same time, ups the stakes considerably for all parties. This being good, traditional Jacobean fare, much takes place during a running time of around 2¼ hours before the evening's dramatic dénouement, following an unlikely late plot twist that made the earlier contrivance seem mild.
Although he gets limited air time and has limited relevance to the plot and plotting, there is a splendid creation in C J Wilson's Bessus, a positively Falstaffian soldier driven to unlikely heroics by his cowardice.
José Zayas directs another strong cast performing from their homes on Zoom. They are led from the front by Chukwudi Iwuji in the title role. He effortlessly catches all of the complexity of a troubled man fighting inner demons and takes every twist and turn in his stride.
While this production has no costume and less business, the outrageousness of the underlying story and the richness of the language ensure that watching this interpretation of the rarely seen A King and No King is an enjoyable experience that makes one yearn for the distant day when it can achieve a full staging in front of a packed and appreciative house.
Reviewer: Philip Fisher