A Little Night Music
Stephen Sondheim; book by Hugh Wheeler
Leeds Playhouse and Opera North
The Quarry, Leeds Playhouse
–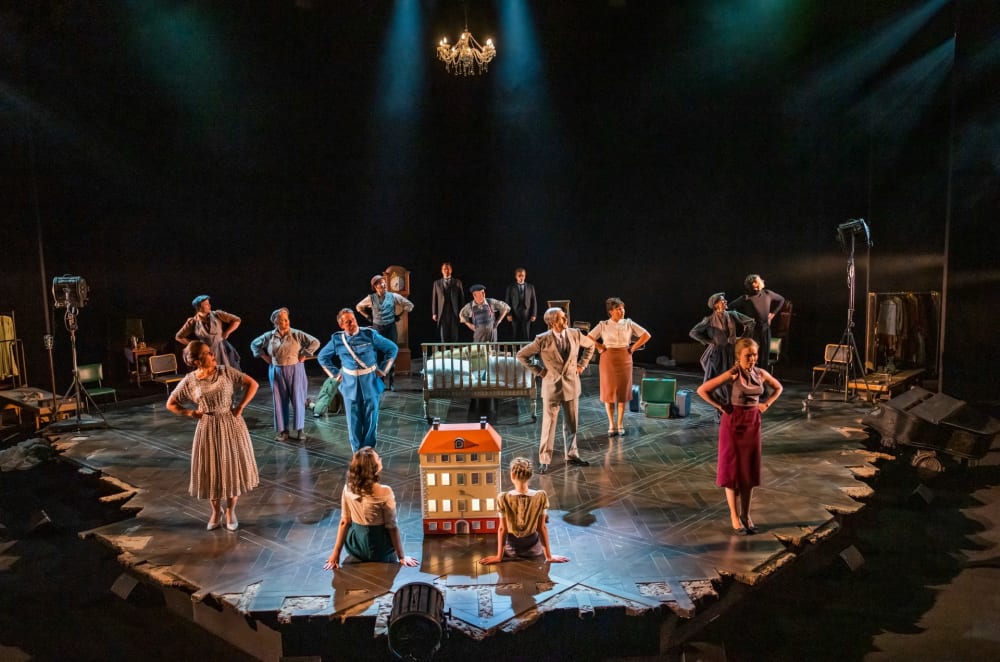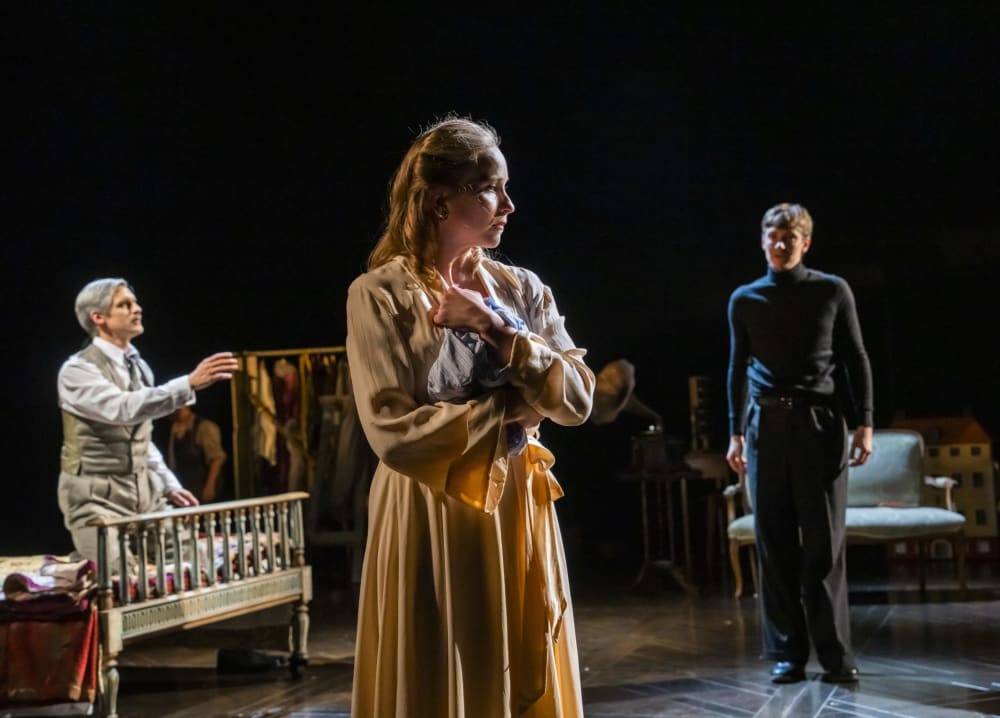 Who can blame Leeds Playhouse's Artistic Director James Brining for wanting to return already to this recent co-production with Opera North? After a cancelled first attempt as the pandemic began in 2020, the eventual production last year had to contend with the uncertainty of lockdowns and the tight constraints of social distancing, which limited both audience capacities and staging opportunities. So it's a delight to have the opportunity to enjoy this masterful production of a Sondheim show I'd not previously caught.
Once described by long-time Sondheim producer Hal Prince as "whipped cream with knives", A Little Night Music is indeed simultaneously sweet, frothy, and sharp. First performed in 1973, it's a musical adaptation of Ingmar Bergman's 1955 comedy Smiles of a Summer Night. The Swedish film itself carries multiple theatrical references, most notably a strong structural nod towards Shakespeare's frothy A Midsummer Night's Dream.
Sondheim's show opens with an equivalent to the Rude Mechanicals, of sorts—though in A Little Night Music the quintet, made up of long-standing Opera North Chorus members, are above and ahead of the action they introduce, rather than beneath and behind it, and their comedy comes from commentary on the foibles of the main characters.
Two others who perform similar functions, while closer to the plot, are the grande dame Madame Armfeldt, played here by the legendary Dame Josephine Barstow, and young Frederika Armfeldt (a role shared by Agatha Meehan and, on the night I saw it, the impressive Lucy Sherman). As dust sheets stir, revealing odds and ends of furniture and a dolls' house designed to represent Madame Armfeldt's imposing country mansion, the elder and younger generations come together to observe—and lightly meddle in—the affairs of the show's main cast.
These affairs are many and interwoven. Well-to-do widower Fredrik Egerman (Quirijn De Lang) is recently remarried, to Anne (Corinne Cowling), a young woman less than half his age whose reluctance to lose her virginity provides a plot obstacle (aptly for the turn-of-the-century setting but somewhat ickily nowadays). Anne is much closer in age to Egerman's son from his first marriage, Henrik (Sam Marston), a chaste and awkward teenager who's preparing for a life of religious devotion but who secretly holds a torch for his stepmother.
Fredrik, meanwhile, dreams of a former lover, the (more age-appropriate) actress Desirée Armfeldt (Sandra Piques Eddy). Desirée happens to come to town on a tour of a French comedy; she locks eyes with Fredrik from the stage, sparking Anne's distressed departure and a rekindling of the once-dormant passion.
Throw in Desirée's jilted second-choice inamorato, Count Carl-Magnus Malcolm (Christopher Nairne), and his comically unbothered wife, the Countess Charlotte Malcolm (Helen Évora), plus a maid, Petra (Amy J Payne), whose stereotypical 'worldliness' is subverted when she gets to sing one of the stand-out songs of the show ("The Miller's Son"), and we've got a farce on our hands.
All these characters are brought together in the nightless night of a Scandinavian Midsummer, where their passions, hypocrisies and true yearnings get laid bare under the knowing gaze of Madame Armfeldt and the impish meddling of Frederika.
Sondheim draws upon the love-triangular relationships at play and, with characteristic intricacy, weaves numerous witty and captivating songs from the material. "Now / Later / Soon" is an early highlight of his contrapuntal puzzle-solving, but throughout the show there are joyous renditions of his melodically, rhythmically, and emotionally complex melodies.
The show's best-known song, Desirée's "Send in the Clowns", is surprisingly brief and comparatively straightforward, musically speaking, doing exactly what it needs to get straight to the heart of the character. However, Sandra Piques Eddy delivers a poignant rendition of the famous song, with headroom to spare on the music and a pitch-perfect judging of the tone.
In general, the women show more range and dazzle, though there is top quality throughout the cast. Quirijn de Lang, who proved his comic chops in Opera North's La Cenerentola and Kiss Me Kate, is again on great form with a trickier, more emotionally complex part. In "Now", his timing and enunciation on "now, I still want and/or love you" is bitingly humorous. Madeleine Boyd's versatile and delightful set also offers him scope for clowning in a moment with a fountain that willingly embraces echoes of another Shakespearean piece, Much Ado About Nothing.
Christopher Nairne is aptly proud as the 'peacock' military man Count Malcolm, and his baritone is no less impressive than his moustache. Sam Marston's naïve but headstrong Henrik is the most earnestly Ibsenite of the characters, and his resonant high notes in his part of "Now / Later / Soon" produced shivers.
It is, though, the women's show. Helen Évora's Countess Charlotte only comes into her own later in the first act, but her performance is gloriously toffee-nosed and no-nonsense, in contrast to Corinne Cowling's wide-eyed Anne. Their duet on "Every Day a Little Death" is another highlight. Cowling's direct and likeable reading of her role evokes empathy, downplaying the potentially patronising aspect of the character described by her husband as spouting 'sweet imbecilities', without undermining the plot complications caused by her youthfulness. As these two end up in cahoots, their performances shine.
Dame Josephine Barstow makes the most of the delicious wit of the part, such as in the semi-spoken showpiece "Liaisons". Enthroned on a wheelchair but as often rising to her feet to speak directly to us, Madame Armfeldt's withering disdain for the goings-on around her is imbued with a glorious sense of mischief.
As previously mentioned, Amy J Payne's turn as Petra features a riotous version of "The Miller's Son". It's a characteristic tune for Sondheim, juxtaposing as it does wistful worldliness with rapid, tongue-twisting commentary on social realities, and great gags.
And Sandra Piques Eddy (who did not appear in the earlier staging of the piece) is superb, clearly more than equal to the demands of Desirée's songs, and she brings a moving sense of truthfulness to the melancholy of the role, while nonetheless hitting every comic beat just right.
The Opera North orchestra, conducted by Oliver Rundell, provide a rich and well-balanced score for the excellent singing throughout. With James Brining's direction bringing a clarity and pace to the show, the daunting-seeming three-hour run time absolutely flies by.
The show's music is built around threes: waltz time, trios, triplets. And here, acting, staging, and music are a trio working in absolute harmony, producing an unmissable production. Madame Armfeldt tells young Frederika that on Midsummer, the night "smiles three times"; this night brings its audience many more smiles than that.
Reviewer: Mark Smith