Cinderella (La Cenerentola)
Music by Gioachino Rossini; libretto by Giacomo Ferretti
Opera North
Lyric Theatre at The Lowry, Salford
–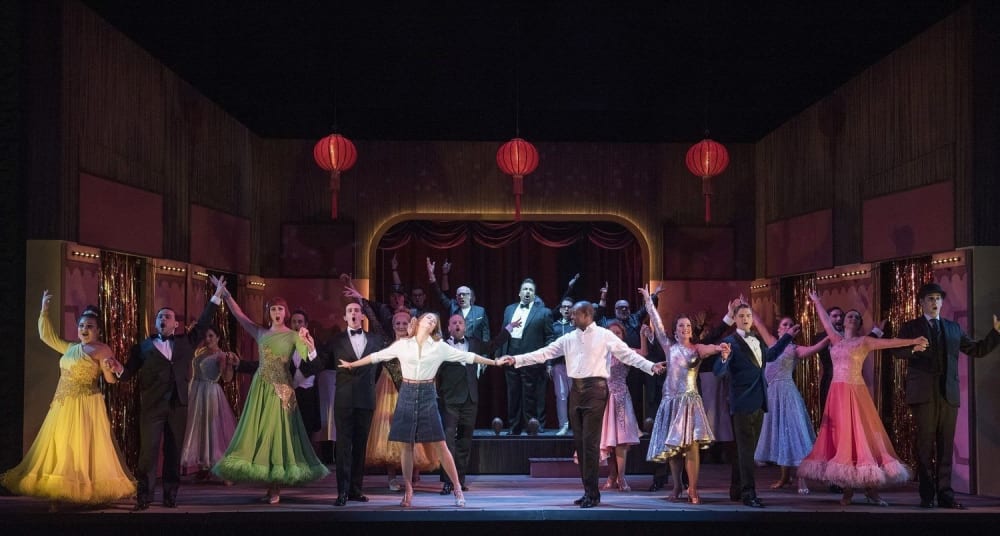 In musical theatre, "sung-through" refers to a piece with no spoken dialogue, no let-up in the singing. Opera North's production of Cinderella presents us with something approaching a "danced-through" opera, with a constant energy and choreography which adds pace, humour and variety in spades.
Director Aletta Collins trained as a dancer and choreographer, so this focus on the physical should come as little surprise. After a framing sequence (involving literal picture-frames), outlining the story's playful approach to storytelling, the action kicks off in Don Magnifico's Scuola di Danza with a colourful parody of pre-teen ballet classes.
In Ferretti's reworking of the Cinderella tale, Don Magnifico (Henry Waddington) is an evil stepfather, a buffoon who's only interested in money and in advancing his social station.
Collins's direction and Giles Cadle's versatile set have placed the action in a somewhat modern, slightly threadbare dance school, where Cinderella is forced to scrub the floors as Don Magnifico thumbs through the cash he collects from fawning mums. In the role of the dancing Don, Waddington brings a great ability to be self-deprecating, even while negotiating the often blisteringly fast tongue-twisters of the libretto.
There is an apt lightness of touch and great comic variety on show throughout the whole company. Sky Ingram and Amy J Payne make a splendid double act as the ugly sisters, Clorinda and Tisbe.
Canadian mezzo Wallis Giunta is the eponymous lead, and from the very outset she is winningly idealistic, applauding her sister's clumsy efforts at balletic manoeuvres without a trace of irony. She has the least comic role, but her dreamy charm is extremely well-played, and she sings beautifully, again managing verbally and melodically dextrous feats.
In an all-round impressive ensemble, Sunnyboy Dladla as Prince Ramiro is particularly worthy of mention. To my untrained ear, his sheer power throughout the vocal range seemed distinctive, with at least one moment of spontaneous applause drawn by his long-held closing note in "Si ritrovarla, io giuro".
Quirijn de Lang shows a great comic touch as the Prince's valet, Dandini, thrust reluctantly into playing the part of the regent, but growing into this role, his chest swelling visibly as he becomes accustomed to the costume.
Small, subtle (and some not-so-subtle) touches of characterisation and physicality such as the above add a great deal to the onstage dynamics, creating a bubbly mood. Opera North's excellent Chorus is well-deployed, given some amusing moments of choreography and characterisation to support the leading roles.
Compared to Hansel and Gretel, touring in the same season of fairy tale-based operas, this is a more conventional staging. The opera itself is more conventional, perhaps. It is all great fun, though, and as mentioned, Rossini and Ferretti seem to delight in setting the singers verbal and melodic challenges of speed and melodic leaps which are joyous to behold. Here, the well-known second-act sextet "Questo è un nodo avviluppatot" is given a particularly effective stuttered staccato performance as the ensemble get to grips with the "knot which must be untangled".
This is accompanied by a similarly intricate and visually satisfying staggered choreography, retreading motifs from the earlier story. It's a great set of visual images, and wonderfully executed by the cast. The moment is helped by delicate and dynamic playing by the orchestra, conducted by Wyn Davies.
The swelling storm is impressively conjured, too, and while the orchestra booms, the sparing but striking use of projections (designed by Andrzej Goulding) supports the mood well.
Matthew Haskins's lighting aids this dramatic moment as well as the gentle conjuring of—not magic, in this version, but gentle wonder. For instance, both staging and light provide a slightly otherworldly feel to the appearances of Alidoro, the prince's tutor who presides over the story, bowler-hatted and upright like a Man from the Ministry ex machina. In this enigmatic and versatile role, John Savournin also impresses.
While this opera (apparently composed by Rossini in just over three weeks) contains repetitions, and struggles to stretch its slender story out to full length, the skills of the singers and the commitment of the direction to motivating every move mean that each repeated line has variety and intention.
In all, an ensemble who look like they're enjoying themselves, a capable and powerful orchestra under a sensitive baton, and an energised, dance-infused direction with every moment clear and purposeful, all adds up to another accessible, fizzing and fun production from the wonderful Opera North.
Reviewer: Mark Smith