A Man for All Seasons
Robert Bolt
Eureka Entertainment
Released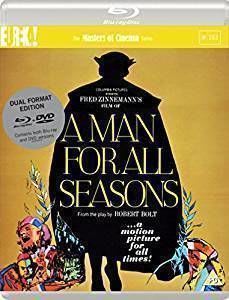 Fred Zinnemann's film version of Robert Bolt's play about Sir Thomas More fully deserves its place in The Masters of Cinema Series.
The newly remastered release comes just over 50 years after the film originally hit the silver screen with a cast of very literally to die for.
It is led by a masterful performance from Paul Scofield as More, a man whose ethical and religious beliefs override both political expediency and his own good, when faced by a strong-willed, bumptious monarch.
The ground covered is similar to that in Wolf Hall, as King Henry VIII, played by a very jocular Robert Shaw, attempts to dispense with a Queen and a religion in his efforts to marry Anne Boleyn, a cameo from Vanessa Redgrave, and bear a son to succeed him in ruling the kingdom.
The play and film cleverly combine the domestic with the more courtly. On the former front, while Wendy Hiller as Sir Thomas's wife Alice is loyal but whiny, Susannah York makes daughter Meg into a noble, educated educated heroine, desperate both to marry a heretical beau played by Corin Redgrave and save her father from a terrible fate.
Where Hilary Mantel turned Thomas Cromwell into a hard-working hero, Robert Bolt's version portrayed by Leo McKern is a truly evil schemer who will happily turn on his friends to acquire power.
In doing this, he not only enlists the assistance of a very young John Hurt in the role of gold-digging Richard Rich but also Nigel Davenport's Duke of Norfolk, a true friend to Sir Thomas More but only while the going is good.
Beyond a brief appearance from Orson Welles, the highlights of this two-hour long movie, now digitally restored and released on Blu-ray for the first time, are the scenes of interrogation. The first takes place between the two Thomases in a relatively quiet conclave but that is then trumped by a trial in front of Parliament, which effectively becomes a fight to the death, where Sir Thomas More achieves a Pyrrhic victory as Scofield hits his zenith.
Anyone who has seen A Man for All Seasons will also recall what must be one of the most unforgettable endings to any film or play for that matter.
This dual format reissue should appeal to theatre lovers as it looks great and does full justice to a great play and towering central performance with universally strong support.
Reviewer: Philip Fisher