A Midsummer Night's Dream
William Shakespeare
Lyric Hammersmith and Filter Theatre
Homeground, HOME Manchester
–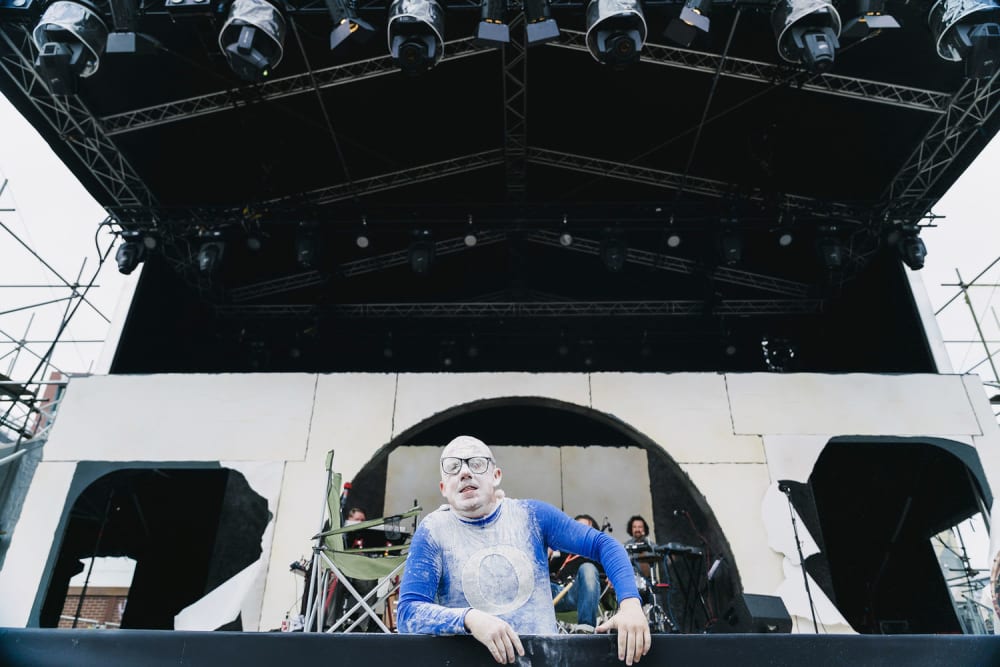 The first full production from HOME at its temporary outdoor space, Homeground, is a revival of Filter's reworking of Shakespeare's A Midsummer Night's Dream as it might have been performed by The Marx Brothers, perhaps with a bit of Reeves and Mortimer thrown in for good measure. What better for a fun summer show, especially after more than a year of almost no theatre at all.
It's worth saying something about the space itself, which has sprung up almost overnight on a patch of waste ground on First Street. Designed by Cordelia Ashwell of Decordia Events, this is an enclosed outdoor area (which unfortunately means intrusive bag checks before you're allowed in) with food and drink stalls on one side and, on the other, a small, covered performance area for evening cabaret and a much larger open-air space with a large stage and a big sound system for theatre performances.
In both, audiences sit at well-spaced tables, each with a pot plant with a QR code on it, which you can use to order food and drink with your smart device (if you have one—not everybody does) to be delivered to your seat. It's ideal for the centre of a major city in summer and not dissimilar to places like Assembly George Square Gardens at the Edinburgh Fringe.
Filter's production was last seen in Manchester at the Royal Exchange Theatre in 2012, but it was created for the 2010 Latitude Festival, so it's perfect for this space. The structure of Shakespeare's play is turned inside out so that the 'play within a play' of the Mechanicals putting on their performance of Pyramus and Thisbe is actually the outer frame for the whole show, with Ed Gaughan's Peter Quince acting as the compère for the evening, as well as playing guitar, and his fellow musicians reluctantly drafted in as his actors: keyboard player Chris Branch is Thisbe (replaced by Pascal Wyse from 21 June) and drummer Alan Pagan is the lion.
Gaughan's opening monologue occasionally drifts into Shakespeare but is really a self-deprecating stand-up routine that has a dig at, amongst other things, the pandemic, 'culture' and the Royal Family; his link from the latter to Ancient Athens for the opening scene is, "speaking of racist Greeks...". However, after a fast-paced, chaotic comedy opening, the more serious scenes that start the play struggle to compete so the atmosphere noticeably drops, especially in the scenes between the lovers where the verse speaking is often flat and without meaning. That is until the drugs kick in to excite the young men's passions and the young women's anger, when they all get plenty of chances to shine.
Karl Queensborough's strait-laced Demetrius dressed in black and grey rather impressively becomes a shiny suited soul singer with all the James Brown yowls and shouts (not one of the dull modern ones), while David Judge's Lysander's more colourful formal attire is mostly removed before the final battle between the two boys, which seems to take place inside a video game. As tensions rise, Leah Walker's Hermia is undoubtedly fierce "though she be but little", but then Misha Duncan-Barry's Helena, who describes her thus, is certainly a match for her.
Watching these battles are Oberon and Puck, sat eating sandwiches and drinking from cans as though they are watching the TV at home. Harry Jardine's Oberon is a wimpish, bespectacled and rather accident-prone superhero. I love good slapstick, but this didn't work for me, and I'm not sure they have pulled off reconciling this character with the ruthless, all-powerful king of the fairly realm. Puck is played by Ferdy Roberts as a tattooed roadie who does everything with a deliberate show of reluctance, but he has a rich, baritone speaking voice that can really grab the attention. As he clears up after the Duke's wedding, he stops, saying, "can't be arsed" before turning to the audience for Puck's final "if we shadows have offended" speech, which is poignant and slightly chilling.
The cast is completed by Carla Henry as Titania, who is perfectly fine but her character seems fairly insignificant in this version compared to everything else going on around her.
There are some very clever effects done entirely with sound and music, although I wonder whether someone who doesn't know the story at all would get some of the references, such as that Bottom had been turned into an ass from clip-clopping coconut shells as he walked. I haven't mentioned the playing of Bottom, which was very good, but there is a surprise about who plays him that I won't spoil.
I'm not sure Shakespeare would have approved as he appealed through Hamlet that "clowns speak no more than is set down for them" and this is a show led by the clowns more than by the script, but I would bet Shakespeare's groundlings would have loved it as much as the Homegroundlings seemed to on the night I saw it, and as did I. But do note that even if it seems as hot a day as it was when I attended, it goes nippy quite suddenly when the sun dips below the surrounding tall buildings, so do take a jacket.
Reviewer: David Chadderton